As manufacturers of label dispensers for the apparel industry and semi-automated working stations for home textiles, RSG Automation is at the forefront of Industry 4.0 innovation in the textile and apparel sector. The company is a family run business which was established in 1982. At that time, RSG sold its machines only in Europe. However, when the apparel and textile industry relocated production from Europe to low-priced labour countries, such as China and India, thanks to quota eliminations in the early 2000s, there was a huge decline of textile production in RSG Automation's traditional markets.
Despite market challenges, the company survived the changes thanks to its refocusing of the business on growing areas of the industry, rather than clinging on to a slowing market. RSG assessed that the market for technical textiles had increased significantly, especially in central Europe. As a result of this, in the early 2000s, RSG started to concentrate on the development of automation concepts for technical textiles. Maik Eisenhardt, director of sales and marketing, says: "We noticed very soon that the biggest automation demand was coming from narrow-fabrics, and we started to focus on special machinery to automate the processing of all kinds of straps, webbings, belts etc, as a key partner for this industry."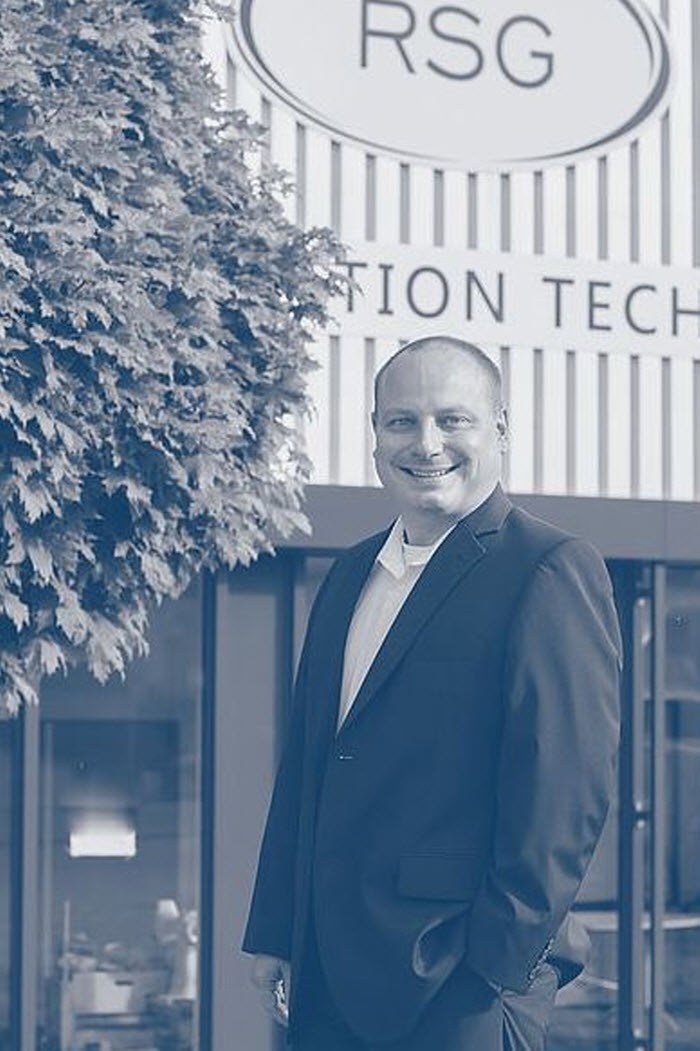 Maik Eisenhardt, director sales and marketing, RSG Automation
According to Eisenhardt, RSG's machines are always customised to fit the needs of its customers. "We offer our customers a complete package: RSG develops the automation concept (always based on the requirements and the products of our customers), design the machine, and builds it in-house in Germany. Additionally, we program the corresponding software for the line," he says.
With these facilities, which the company calls Narrow-Matic, fully automated processing of narrow fabrics, such as lifting and lashing straps, tie-downs, slings, seat and safety belts, and also hook-and-loop materials, kids-safety products, medical textiles, and filter materials. Eisenhardt continues: "All production steps such as unrolling, feeding, folding, processing of labels, sewing, sealing, ultrasonic welding, laser cutting, printing, winding, stacking, and packaging are taken over by the unit."
Today, 60% of all newly installed car safety belt production lines in Europe are produced on RSG machines and technology and in addition to its classic European market, RSG has a large presence in the US, Central and South America, and Asia.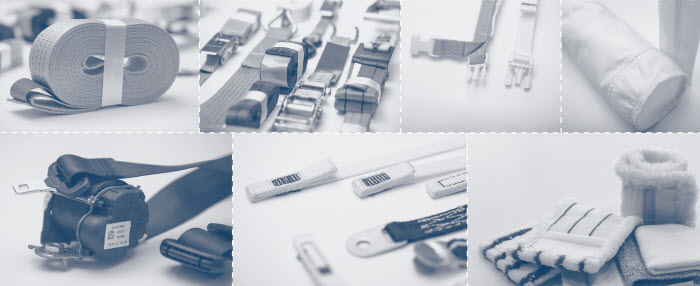 Narrow fabric products made on RSG Automation 'Narrow Matic' production lines
While the Americas are becoming increasingly important in the technical textiles market, Eisenhardt notes that when it comes to automation, Asia is also increasingly important. He says: "A few years ago, this was not obvious, because of the low labour and production costs. Therefore, automation was no topic there at all. However, this is now changing rapidly. In China, for example, labour costs have increased dramatically in the past years, especially in the automotive industry. In this field today, the labour costs are even higher than in Romania. Additionally, the demand for higher quality is also becoming a major topic in Asia nowadays. Therefore, Asian companies are putting their current focus on automation. We have recently had our first order from Asia recently to accommodate this."
He continues: "We are happy that we could establish a co-operation with a big player in the Asian market by the end of 2017, which will allow us to increase our presence in Asia, and soon offer our customers more possibilities regarding to sales support and local service." This drive towards automation coincides with government initiatives in the region – particularly in China – which state that the majority of production in the country needs to be automated in the next few years.
Automated sewing
Automated sewing is an integral part of RSG's production line offering and the benefits of this automation are undoubtable. Automating the sewing process brings "marked improvement in production capacity, significant savings in labour and production costs, the avoidance of all process errors, as well as the visible, constant, and reproducible improvement of product quality," says Eisenhardt.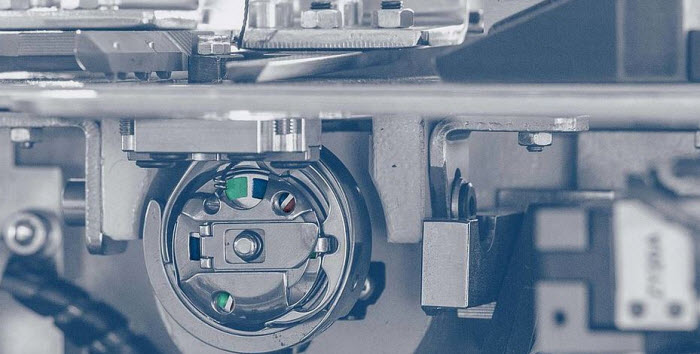 RSG automation technology
However, when it comes to creating this technology, there are a number of challenges. Eisenhardt says: "One of the biggest challenges is that concept requirements are always different. Although the final product may look similar in the beginning, small differences can have a huge impact on the automation process.
"Additionally, it is much more complicated to automate a flexible product such as a textile, compared to stable products, like mechanical parts. That is the reason we always ask for fabric samples at the beginning of a project. In this way our customers can be sure that their machines are going to be adapted exactly to their products."
However, if a customer wants to change the product being made on the production line, this is still possible. Eisenhardt says: "In order to make our machines as universal as possible, we frequently work with exchangeable working tools, which we call jigs. Each tool will be individually designed for one product group. If the customer would like to run a different product group on its RSG machine, it only needs to exchange the tools, which can be done within a minute, and work can continue on the machine will minimal downtime."
Process monitoring
Before the invent of the Fourth Industrial Revolution, Eisenhardt notes that only the final product was important. However, Industry 4.0 has completely changed that, with the process now being just as important as the end-product, and with the growing demand that it is efficient, fast, flexible, green and transparent.
Eisenhardt says: "In the past, only the resulting final product was important. Nowadays, our customers request that the entire process needs to be fully monitored, so every single production step in our machines needs to be controlled and confirmed, before the next production step can start, and the final product can be released at the end. Based on this prerequisite, we deliver our units always fully Poka-yoke controlled."
Poka-yoke is a Japanese term meaning 'mistake-proofing' or 'inadvertent error prevention'. Process monitoring is therefore central to this, to find errors before they become a problem. Eisenhardt says this "means that all possible mistakes are detected and eliminated. Our challenge is to warrant this with many different technologies and high-end software that controls this and reports all information to the subordinated data base of our customers' computer system."
He adds: "Monitoring the production process, especially the sewing process, is mandatory and therefore has the highest priority. We have developed and patented various monitoring systems that always warrant a fully monitored sewing process." For example, the company's Colour Thread Monitoring System uses unique bobbins that are coloured with three different colours. If the system detects a wrong sequence, for instance because of a broken thread, the sewing process will stop automatically. Eisenhardt says this "avoids incorrect stitching, or 'fake seams'. Also, RSG's Residual Thread Monitoring System checks the residual amount of thread inside the bobbin and calculates automatically how many parts can be produced with the residual amount of thread. If the sewing of these parts is finished, the process is stopped. These systems have been standard in many automotive companies for more than 10 years."
An additional example is the company's bobbin exchanger technology. Implementing an automatic bobbin exchanger into a machine can ensure a continuous and seamless process, minimising downtime. Eisenhardt says: "Instead of stopping the process after the thread is empty, the unit will automatically reload a new bobbin from an external magazine. This can be set up as a Single Bobbin Exchanger for one bobbin, or as a Multiple Bobbin Exchanger for up to 22 bobbins. The main advantage is, compared to other systems available on the market, that the bobbins can be prepared and loaded to the magazine of the exchanger during the sewing process. This will allow a continuous process without stopping the machine, and results in a reduction of down-time and in a visible increase in the production capacity. Also, the machine can run during lunch-breaks and other instances, fully unattended."
Integration
It is important to note that Industry 4.0 is not about automating isolated production processes, but about ensuring the connectivity and seamless integration between separate manufacturing processes, uniting the production into one process. It is critical therefore, that RSG's automated production lines, such as for automated sewing, are connected to technology further upstream and downstream.
Eisenhardt says: "Our biggest challenge is to open the mind of our customers: In the past, the understanding of 'sewing automation' in the industry was, that the machine, a semi-automated working station, supports the machine operator to do one or two process steps. Yet our understanding of 'sewing-automation'; is completely different: We are talking about the possibility of a fully automated production line, where the operator needs to only check if there is enough material on the line, and that the bobbin exchanger magazine is always loaded with threaded bobbins. Our machines process and assemble parts should be unattended, and everything controlled by the machine controller."
To realise this, it is necessary that most of upstream and downstream processes are implemented into RSG's concepts in order to achieve maximum automation. "Besides sewing, we can integrate many other different applications in our lines, such as ultrasonic welding and cutting, laser cutting and marking units, printing, winding, packaging etc," adds Eisenhardt.
Manufacturing: home or away?
With the development of automated production lines, it is argued that manufacturing is being brought back to the western consumer, with more localised production allowing for shorter lead times and greater flexibility. And while it is true that a large share of the automation demand in textiles still comes from Europe, the apparel manufacturing sector in Europe is still very low and this, according to Eisenhardt is because currently, almost all apparel manufacturers still produce in cheaper labour countries.
Eisenhardt explains why: "Due to the many different styles, sizes and variations, apparel products are very complex to automate. This results in the level of automation not being as high compared to the possibilities of automation of narrow fabrics, for example. Therefore, it is not very likely in the near future that this industry will come back to Europe based on automation possibilities. On the contrary, we believe the apparel industry will move towards Africa in the near future, because Asia will become too expensive."
However, the technical textiles industry is a different story. Eisenhardt says: "In the technical textile industry, many companies decided to keep their production in high-cost countries by implementing automated technology such as those from RSG. We have many customers who are convinced that producing their high-level products in Europe, or the US, with modern, automated and monitored production concepts is the better way to be successful and competitive in the future.
"One example is one of our main customers [who cannot be named or revealed]. Based in Europe 10 years ago, it had around 1,000 employees. The final decision to close the company and move to cheaper countries was almost taken before we convinced them to stay in Europe and invest in our technologies. Today, this company is still producing in the same location in Europe, has 2,200 employees, and 150 machines from RSG."
Eisenhardt adds: "This proves that automation does not kill jobs. Innovative automation supports high-level companies to improve their current production situation and allows them to remain successful in their home country and grow constantly."
Another example of RSG's technology being implemented to automate a textile production line is when a French company [whose identity cannot be revealed], some years ago visited RSG's booth at a textile machinery exhibition. The company was interested in RSG's sewing monitoring technologies and implemented RSG's accessories into its sewing machines.
"During the work on the project, and after successful testing of these systems, both companies could establish a trustful co-operation. This company had to produce one special product several hundred times a day and was looking for a fully automated solution," Eisenhardt continues. "The product was completely new for us, and we had no references in this field. We designed a first draft concept together with the customer – they trusted us, and placed the order for the first prototype machine. This was the first fully-automated and monitored production line for narrow fabrics, and the birth of our Narrow-Matic machine generation." The machine was successfully implemented and today three similar machines are running in the company's plant in France.
Have your say. Tweet and follow us @MCornforth_WTiN and @WTiNcomment