Gerd Willschütz, COO, ColorDigital, talks to Madelaine Cornforth about the company's digital colour palette and enhancing the digital workflow.
When it comes to sourcing colour palettes and materials a lot of time, energy and resources and cost can be wasted as colours are tested out and samples are sent across the world. And in an industry where margins are small, costs are high and sustainable production is becoming increasingly sought after, sampling and sourcing colours and materials can pose a challenge.

ColorDigital's technology can reducing sampling through AR
Around 2008 Gerd Willschütz started working on trend colour cards for the German Fashion Institute (DMI). "I kept asking myself what could enable us to communicate those colour cards in a digital way in order to integrate those colours in the emerging digital workflows," he says. "It seemed absolutely clear to me that this would be needed in the industry sooner or later." 
By exploring technical possibilities with different technology providers and visiting a lot of members of the DMI, the concept of pure colour information was extended on to materials. "During those visits it was also quite easy to see how much a digital solution was needed as most companies worked in terms of sourcing colours and materials like they did the last 50 years, wasting time, resources and money," says Willschütz.
Thus, ColorDigital was born in Cologne, Germany in 2013. The company is considered a pioneer in accurate and expedient colour and surface communication for designers, product developers and producers. The company's goal is to fully optimise the production of colours and surfaces with agile software development.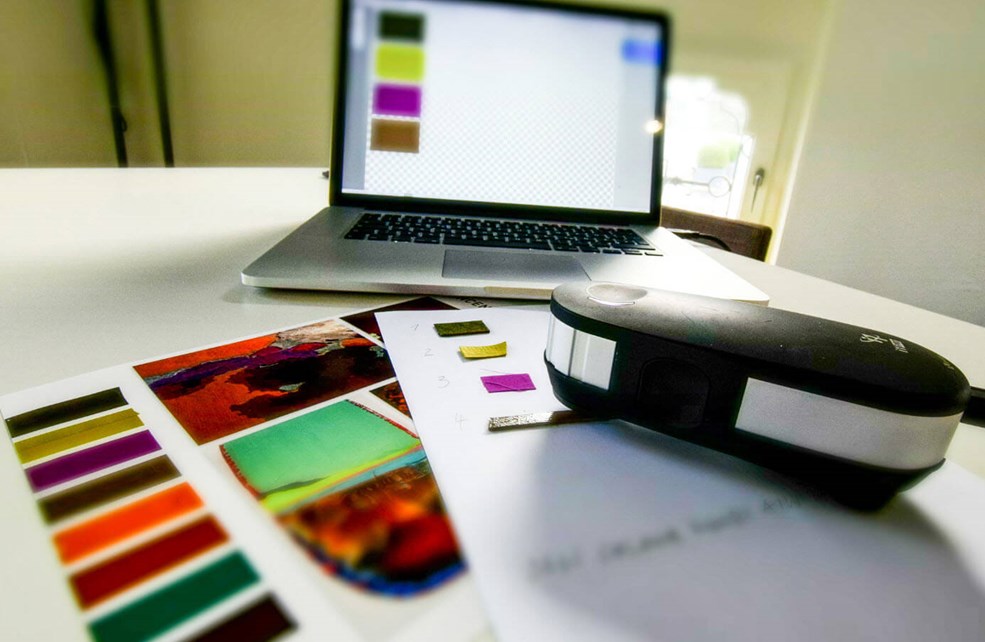 Colour swatches using ColorDigital technology
Pantone
The company is partnering with X-Rite and Pantone to make a full, classic Pantone colour palette available in digital format.
Through a process of continuous convergence, as well as the implementation of interfaces, X-Rite and ColorDigital have brought Pantone and the DMI on board.
Adrián Fernández, vice president and general manager, Pantone, says: "Pantone is a design-focused company with steady attention around the importance of connecting innovative physical and digital solutions. We are committed to offering designers an integrated workflow and partnering with ColorDigital gives users direct access to the full Pantone Color Libraries, to ensure the seamless communication of colour from design through production."
The sourcing and communication workflows for Pantone colours, which were previously analogue-based, have been fully integrated into the digital process development of the supply chain to offer full benefits for your customers in the fashion, lifestyle and consumer goods industries. Pantone provides a universal colour language used by more than 10 million designers and producers around the world, across various design industries such as fashion, graphic, product and packaging design.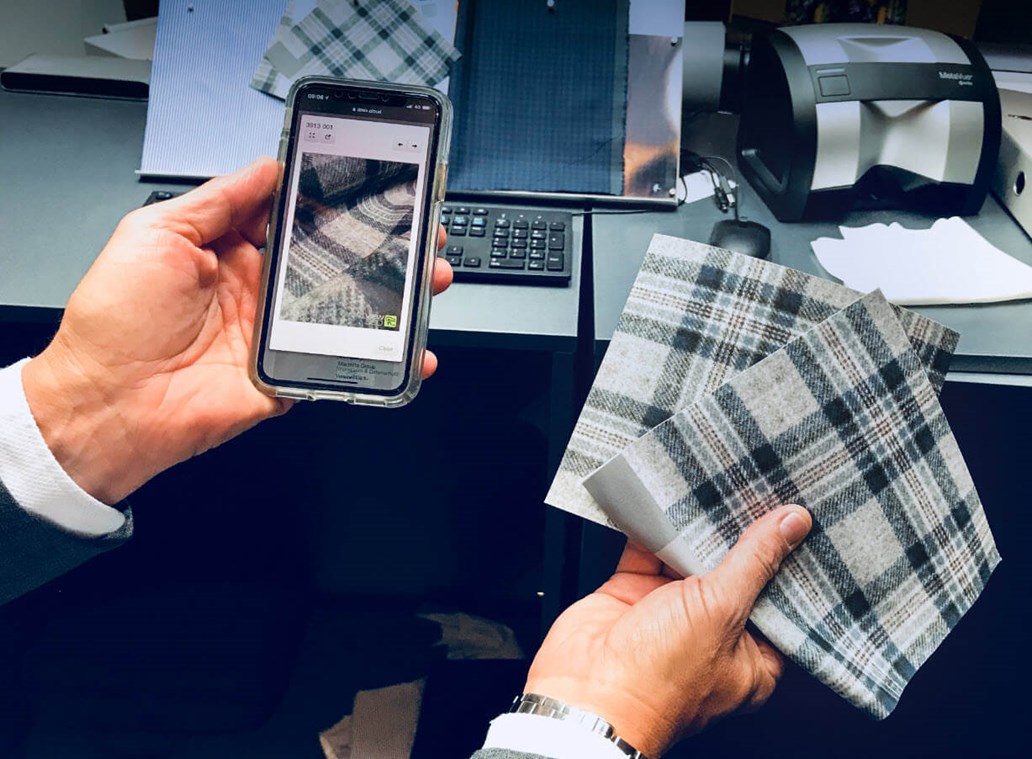 Materials using ColorDigital technology
Communication 4.0
The ColorDigital system works using the DMIx Cloud. The DMIx Cloud opens up new pathways for colour and surface communication. To supply the palette through the cloud, the company works with the DMI as the DMIx Cloud itself has no colour palette.
"The German Fashion Institute is first of all an association of the textile industry and there is a strong desire to push digital standardisation and workflows by its members," says Willschütz. The Institute shares the digital trend colour cards over the DMIx Cloud. "What took weeks and weeks before, producing the printed card with textile swatches can be done via the cloud almost instantly after board meetings, for example," he adds. "As a result, their clients are able to get a very precise piece of information up to six weeks earlier."
However, digitalisation for product development only makes sense when it is taken seriously, according to Willschütz. "We are not talking about word processing. We make sure that the digital appearance of a product, a material, a colour matches as good as possible to the real world and is based on data that can be used instantly for production," he explains.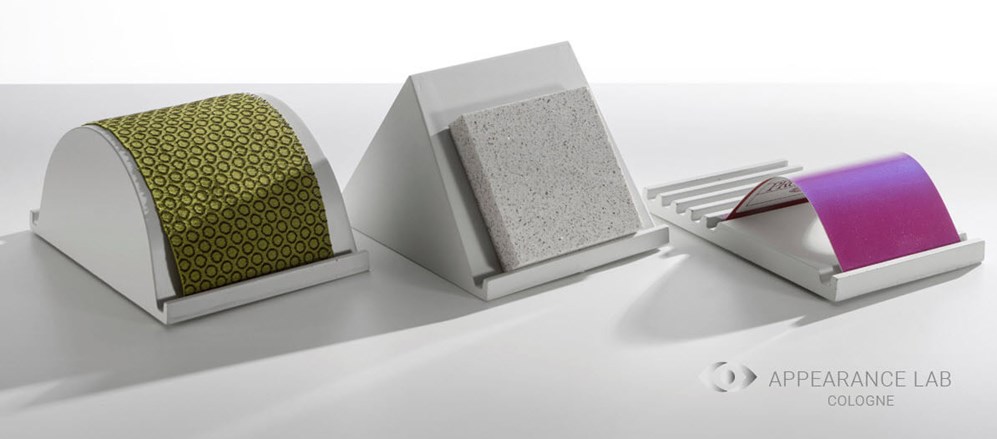 Materials from Appearance Lab
ColorDigital believes that there is not one solution or one player to solve the challenge of growing demands and complexity in the textile market. "Product development and sourcing can only be as effective as needed when companies can use integrated workflows to meet the special requirements of different software and production solutions that need to interact on a local and global level. With the DMIx Cloud we offer the solution that is able to connect different workflows, local demands and to cross company boundaries on a global scale," says Willschütz. And this can be used across technologies and integrated into existing workflows, enabling a new, more streamlined way of communicating.
"What we strongly believe is that we are enabling people and companies to work quite easily with the necessary digital data and this will result in less unnecessary physical sampling, enabling and speeding up processes regardless of time and place."
Importantly, Willschütz notes that the system, as it can be fully integrated, does not pose a problem in terms of its implementation and set-up. Customers can be "up and running in less than two months," he says. From there, he adds that "the positive effects of the DMIx Cloud starts immediately."
The main benefit for users in all industries is that they need precise information on colours and materials along the supply chain, and with this technology that demand is met. "Typical examples are the lab dipping process, digital salesman samples and graphics and pattern making, etc. The possibilities are endless and can reach up the POS," says Willschütz.
Additionally, the sustainability impact can be huge. Willschütz continues: "Each sample that is not produced saves on logistics, water, energy and waste costs. We are not saying the industry can work without tactile feedback, but we do believe that we can reduce sampling by more than 50%." As a result, designers could potentially see just one or two samples for pre-production, instead of five, for example.
"By defining clear digital standards, the whole communication is enhanced instantly, eliminating endless rounds of sampling. Just think about all the physical sample cards that are produced. With the DMIx Cloud users can rethink the whole concept of that, creating client-orientated real-time updated digital libraries." A good example of this is ColorDigital's client Lampo Zipper in Italy as shown by this video: https://vimeo.com/colordigital/digitalsampling
Another good example is the company Mammut, a multinational mountaineering and trekking goods company based in Switzerland. "Our entry point with Mammut was the material management," says Willschütz. "Within a month we enabled the significant units at Mammut to work with standardised digital colour information inside the company accomplishing a very effective workflow. Today, Mammut is working together with its major suppliers together on the DMIx Cloud generating less and less samples and saving up to 50% in terms of time in some cases."
Working in all areas of the textile industry, ColorDigital also has a partnership with Epson, developing software to build bridges between technologies, communicating with the RIP software. Willschütz comments: "Epson was a strong supporter right from the start which makes absolute sense. If you feed the wrong input to any machine how can you expect any reasonable output? We make sure that our users are able to produce data that can be processed by various applications and machines. For colour-correct paper printing we can offer a One Button solution together with the Mirage Rip Software."
ColorDigital also works with Human Solutions/Assyst. The Assyst software Vidya is a perfect example of a fully-integrated workflow. "We are able to connect different suppliers with the company's fabric catalogues via the DMIx Cloud to the Vidya 3D software. If, for example, a weaver is able to produce weaving simulations the DMIx Cloud converts those into 3D textures that can directly be used in Vidya just by dragging them out of the browser into the application. This is a completely virtual workflow based on production data," explains Willschütz.
This can be seen in action here: https://vimeo.com/289344269
In terms of weaving, ColorDigital is looking to work more with weaving OEMS and yarn manufacturers as it is such an integral part of textile development. However, with talks currently ongoing, the company cannot talk about that project at the moment.
The company has also added a new service, the Appearance Lab, to its offering. "We are now offering total appearance capture scans for 3D textures as a service. Using high-end Xrite machines," says Willschütz. The Total Appearance Capture (TAC) ecosystem is an award-winning appearance solution that enables realism and efficiency in digital material capture and 3D design, according to the company. It aims to bring product designs to life with digital material representations that have the same visual appearance and characteristics as their physical counterparts, like a digital twin.
The technology accurately and consistently shares material appearance information across every step of the product development process to reduce design approval cycles and accelerate time to market, says ColorDigital.
The TAC7 Scanner efficiently measures and stores colour, size, texture, gloss, transparency, and other appearance characteristics for even the most complex materials, says the company. Scanned results are captured and shared via an Appearance Exchange File (AxF), a vendor neutral file format that is easily accessed by most major Product Lifecycle Management (PLM), Computer-Aided Design (CAD), and state-of-the art rendering applications. The result is highly accurate files and reduced time for manual adjustments, the company continues.
When it comes to integrating new technologies such as these, it can be difficult for companies, especially in a traditional industry such as textiles, to fully get behind the digital transformation. But with energy, cost and time saving as significant as 50% in places, as with Mammut, it is obvious that those who do not get onboard will fall behind if not fall altogether. "In the end the customer needs to start a transformation inside the company that affects learned processes," says Willschütz. "In terms of technology, the questions are mostly easy to answer. The challenge is to get the right people with a positive mindset and a strong support from the top management in order to reach a 'critical mass' that fuels the process for the whole company."
Have your say. Tweet and follow us @WTiNcomment