Twist is essential reading for anyone interested in the latest developments across the textile supply chain.
With a strong focus on the premium and luxury end of the industry, Twist has expanded coverage to encompass the rapidly growing sports / outdoor wear and 'athleisure' sectors.
With a global network of expert writers, the journal provides reports from all the leading international yarn and fabric shows, company profiles, interviews with key senior figures, and special reports providing exclusive insight into all the latest innovations in fibres, yarns and fabrics. Twist also delivers information about all the major fibre markets, together with conference reports and in-depth features on the key industry issues affecting fibre supply and demand.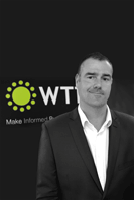 Jonathan Dyson, Editor, Twist
Jonathan joined WTiN as a staff journalist in 2006, and went on to become Editor of Wool Record in 2007, before relaunching the magazine as Twist. Jonathan was previously WTiN's Head of Content from 2009 to 2011, as well as Editor of Future Textile and Knitting International.
Jonathan can be found Tweeting @JonathanDyson
Upcoming features in 2019
Issue 1
• Performance fibres
• Wool and early stage focus
• Chinese translation issue
• Bonus distribution: Premiere Vision Paris, Filo, Intertextile Shanghai Apparel Fabrics
Issue 2
• Cotton focus
• Denim focus
• Sports/outdoorwear
• Spring/summer fabric trends
• Spring/summer yarn trends
• Bonus distribution: IWTO Congress
Issue 3
• Rare and speciality fibres
• Super luxury
• Performance fibres
• Cellulose fibres focus
• Bonus distribution: Pitti Filati
Issue 4
• Aurmn/winter yarn trends
• Sports/outdoor wear
• Cashmere fibre focus
• Chinese translation issue
• Bonus distribution: Premiere Vision Paris, Filo, Nanjing Wool Market Conference, Intertextile Shanghai Apparel Fabrics
Issue 5
• Mohair fibre focus
• Autumn/winter fabric trends
• Wool and early stage focus
• Performance fibres
• Japanese translation issue
• Bonus distribution: JITAC, IWTO Roundtable
Issue 6
• Rare and speciality fibres
• Sports/outdoor wear
• Cotton fibre focus
• Knitwear
• Bonus distribution: ISPO Munich, Pitti Filati