The aim of every business is to expand its product offering, which in turn leads to the recruitment of new customers and, ultimately, business growth. Achieving these goals is an arduous task and finding the right business model at the right time often evades even the most ambitious entrepreneurs. However, investing in digital textile printing right now could be considered a sure-fire way to accomplish these objectives. And UK digital textile print distributor Sabur is set up for success.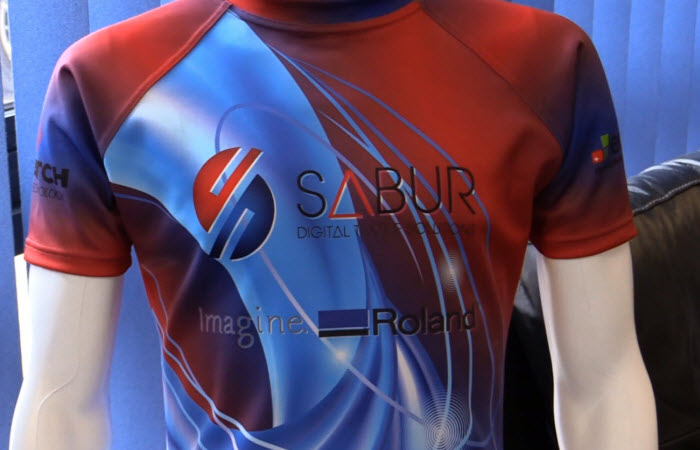 Sabur dye-sub printed T-shirt 
Who is Sabur?
Sabur was established in 1998 by business partners Dean Sanger and Ian Burton, both of whom had a background in manufacturing. The company began its life as a provider of dye-sublimation technology, with around 90% of the business focused on rotary equipment and only 10% on digital. However, as the company progressed, it established partnerships with digital-focused brands such as Mutoh – in 2003 – and subsequently Roland and Mimaki. In addition to the printers that Sabur offers, the company is also a distributor for Sefa and Klieverik's finishing equipment, as well as Kiian Digital inks. Most recently, the business has partnered with Kornit Digital, offering the Kornit Breeze entry level model and the most current model, Storm Hexa, which launched at FESPA Digital in March.
Part one
Sabur partners with Kornit
When WTiN visited Sabur's new showroom, it was clear that service is key to success in the UK market, and Sabur's investment in expanding its premises and staff adds to this service. Customer service competence was also the main factor that led Kornit Digital to partner with Sabur, despite already having a UK distributor.
Part two
On top of its broad product offering, Sanger claims that around 99% of products can be delivered to customers the next day, and the company has created strong relationships with customers to ensure there is minimal down time when printing issues occur.
The future of the UK market
So what's next for Sabur and, indeed, the UK digital textile printing market? Perhaps ahead of the rest of the world, Sanger predicts the UK will move to direct-to-fabric digital textile printing over transfer printing. This is a trend that is growing in the industry, but the ease and cost of transfer printing often wins out. However, with the UK textile businesses aiming at the luxury end of the market, the versatility and increasingly high quality of direct printing appeals.
Part three
Given that much of Sabur's business comes from the UK's investment in fashion-wear – a key market for dye-sublimation transfer printing – this is quite a statement. However, Sabur's foresight in the past has enabled the business to grow in tough economic times, and its investment in the Kornit direct-to-garment printers is emblematic of its industry perspective. In addition, the business has targets of 50% growth year-on-year up to 2020, having been growing at around 21% each year since 2012.
Have your say. Tweet and follow us @TFall_WTiN and @WTiNcomment
RELATED ARTICLES
TRENDING