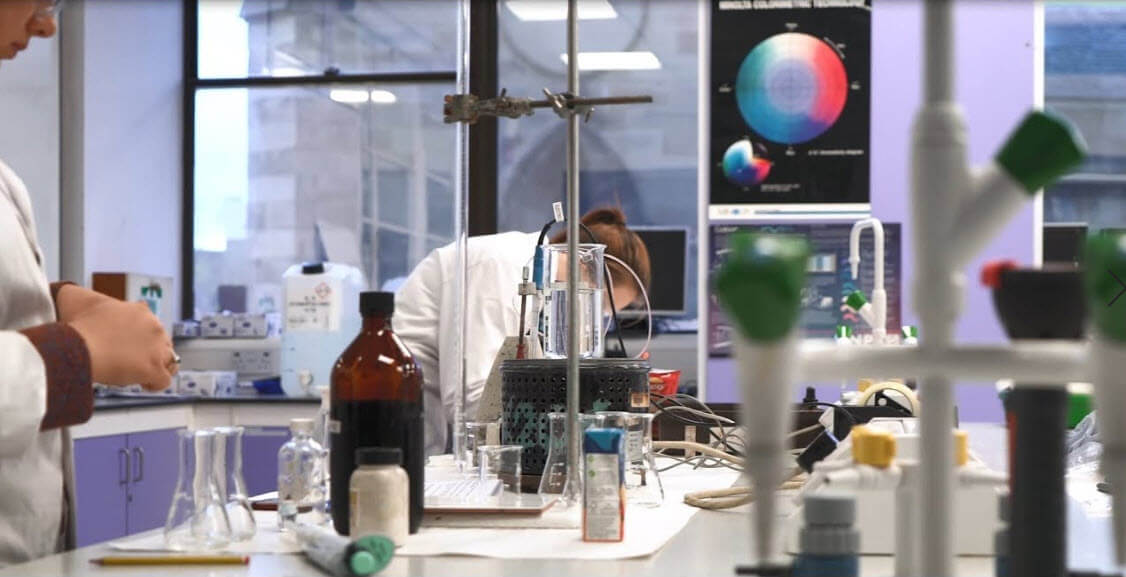 23 August 2019
Ep. 2: University of Huddersfield launches new Technical Textile Research Centre
-
Founder of the centre, Professor Parik Goswami, gives Fiona Haran a guided tour of the new facility which supports the multidisciplinary development of high-performance textiles.
The technical textiles industry is set to receive a much-needed boost, thanks to the launch of a new research centre at the University of Huddersfield, UK.
The Technical Textile Research Centre (TTRC) will focus on high-performance technical textiles that are bespoke and high quality but produced speedily and efficiently so that they are competitively priced and respond to an increase in global demand. And to do this, the TTRC will pool knowledge from various sectors – primarily science – as, according to the centre's founder, Professor Parik Goswami, "it's difficult to see a real impactful innovation in technical textiles where chemistry didn't play a part".
The centre is therefore housed in the university's School of Applied Sciences, with machinery installation expected to be completed in around two months' time. "We have all the chemistry labs, all the biology labs; we can do, say for example, antimicrobial testing in-house, which plays a big role in medical textile product development," says Goswami. "Plus, we have a pharmaceutical department, so we can do wound dressings, drug delivery and so on. This is one of the few textile facilities that is located in a scientific school, so we want to make that element an integral part of our research."
This centre is also linked to the university's Institute of Skin Integrity and Infection Prevention – a platform that conducts collaborative research and teaching in the management of acute and chronic non-healing wounds. "The whole point of this particular centre is, if you look at the academic scholars involved, they not only come from textiles, there are people from engineering, artificial intelligence, supply chain management, computational chemistry etc," says Goswami.
This multidisciplinary approach is something we're seeing across the entire textiles industry, particularly in the emerging field of smart textiles which relies heavily on collaboration to strengthen knowledge and innovation. This, says Goswami, is just one area that could benefit from the intellectual property (IP) model associated with the research undertaken by the TTRC, to support commercialisation. "Smart textiles is a very good example," he says. "We're still at a stage where we're uncertain of the definition of smart textiles. I think it will evolve, particularly as textiles that are currently perceived as inactive can be active, as there are so many finishing agents. Some textile finishes, for example, can easily be defined as smart. However, in order to go to the conventional method of smart textiles [electronics], we are actually going outside the boundaries of this university and collaborating with other people who specialise in flexible electronics. We will do the research to bridge the gap. We aspire to do that research and we are progressing in that direction."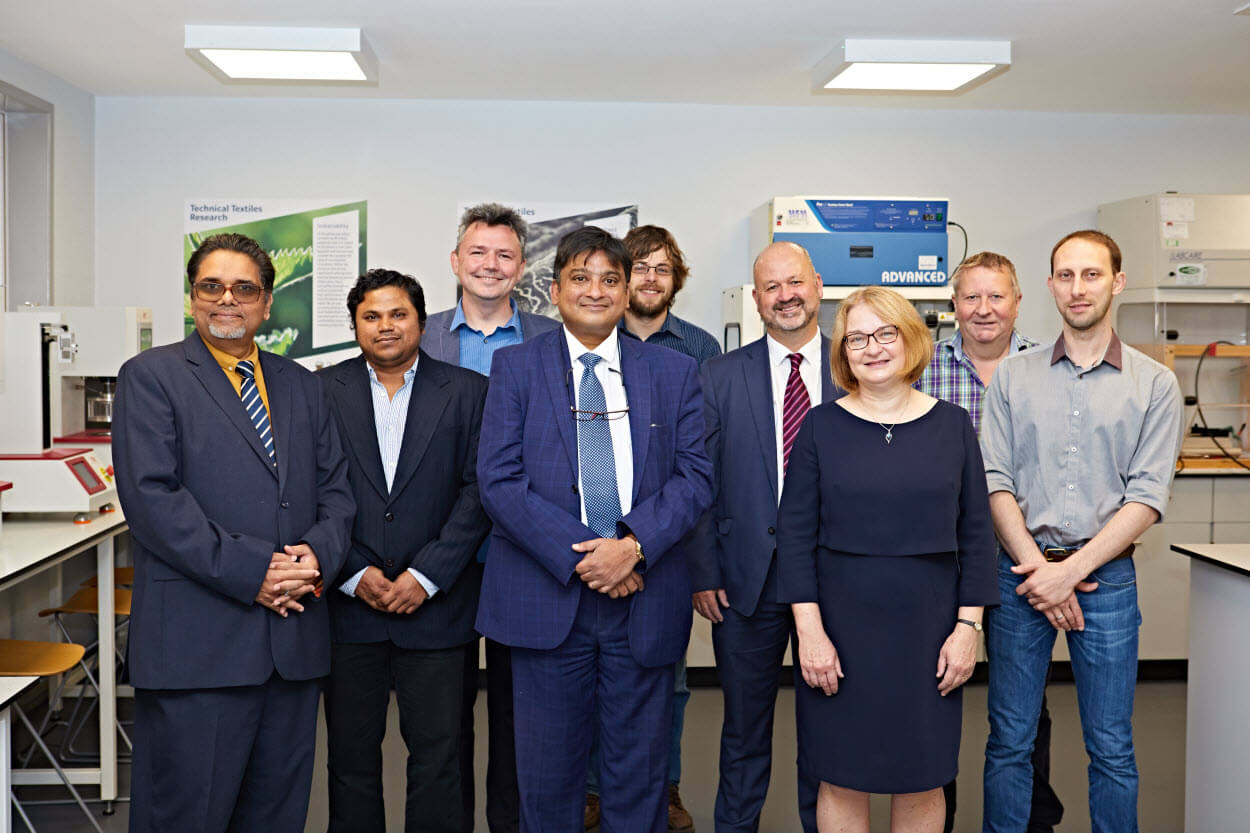 The new centre will house experts from a multitude of fields including chemistry, engineering and textiles
Funding
To support these efforts, the TTRC has received funding as part of the Future Fashion Factory – a £5.4m programme supporting collaborative R&D in the UK's fashion design and textile industry.
Yorkshire mills, bespoke tailors and fashion brands are among the companies set to benefit from over £645,000 of investment in new, industry-led research and development (R&D) following the first funding call.
The Future Fashion Factory is part of the Creative Industries Clusters Programme, an initiative led by the Arts and Humanities Research Council (AHRC), part of UK Research and Innovation (UKRI). The Programme is led by the University of Leeds in partnership with the University of Huddersfield and Royal College of Art.
Goswami reveals that there are also plans to bid for further funding via the UK Government's Industrial Strategy – an initiative spearheaded by former Prime Minister Theresa May which promises to bolster Britain's "world-leading" industries to shape a stronger and fairer economy.
"There are so many aspects of that which can be solved with technical textiles," says Goswami. "Some will be on their own, but many will be collaborative clusters between universities."
He continues: "If you look at the Future Fashion Factory, the essence of it is to help companies in the Leeds City Region to be competitive globally. This is an opportunity now as universities are willing to collaborate with each other. Ultimately it comes down to the people. There are people who want to collaborate and who can think outside the university boundaries. It is very important as we are here to provide a service and to do fundamental research, but in a way that helps our industry and related industries as well – particularly the chemical industry. Leeds City Region has one of the biggest chemical industries in the country. It has a huge cluster. One of my objectives is to bring these two industries [textiles and chemicals] together."
The R&D developed across the Future Fashion Factory research themes will also feed into industrial apprenticeship programmes, and the TTRC will deliver the next generation of industry apprenticeships. "We're working closely with the Textiles Centre of Excellence," says Goswami. "Part of this centre will be a new MSc degree course, Product Innovation in Textiles. This will cover the regulatory and governance aspect of health, among other topics."
He adds: "My aspiration is to not only make it a fundamental or applied research programme but also a holistic centre. When industry approaches us, we're not only talking about research for research sake, we're giving them the policy support that they need. The SMEs really need that, as well as things such as freedom of operation."
Focus areas
Goswami joined the University of Huddersfield in September 2017, having previously held the position of director of Research and Innovation at the University of Leeds' School of Design. "The journey towards technical textiles started from there," he says.
Some other big research areas, says Goswami, are composites, plasma, chemistry of nonwovens and – a personal favourite of his – cellulose chemistry and carbohydrate chemistry. "That will be a big side of it, especially regarding single-use plastics. This can be spun out into a lot of different industries."
The second thing, he says, is to create a 'multidisciplinary interface', where people can approach the centre with a problem. "I want to be the first line of contact. Even for start-ups and SMEs, we want to give more holistic support by trying to understand policies and the IP landscape."
This, he concludes, will help put Huddersfield's technical textile research on the map. "We have to increase the footprint of textiles in this region. We have to shout about it – it is not a legacy industry, it is an industry that is growing and could grow beyond comprehension."
To learn more about the University of Huddersfield's Technical Textiles Research Centre, visit https://research.hud.ac.uk/institutes-centres/isiaip/ourcentres/technical-textiles/
Have your say. Tweet and follow us @WTiNcomment