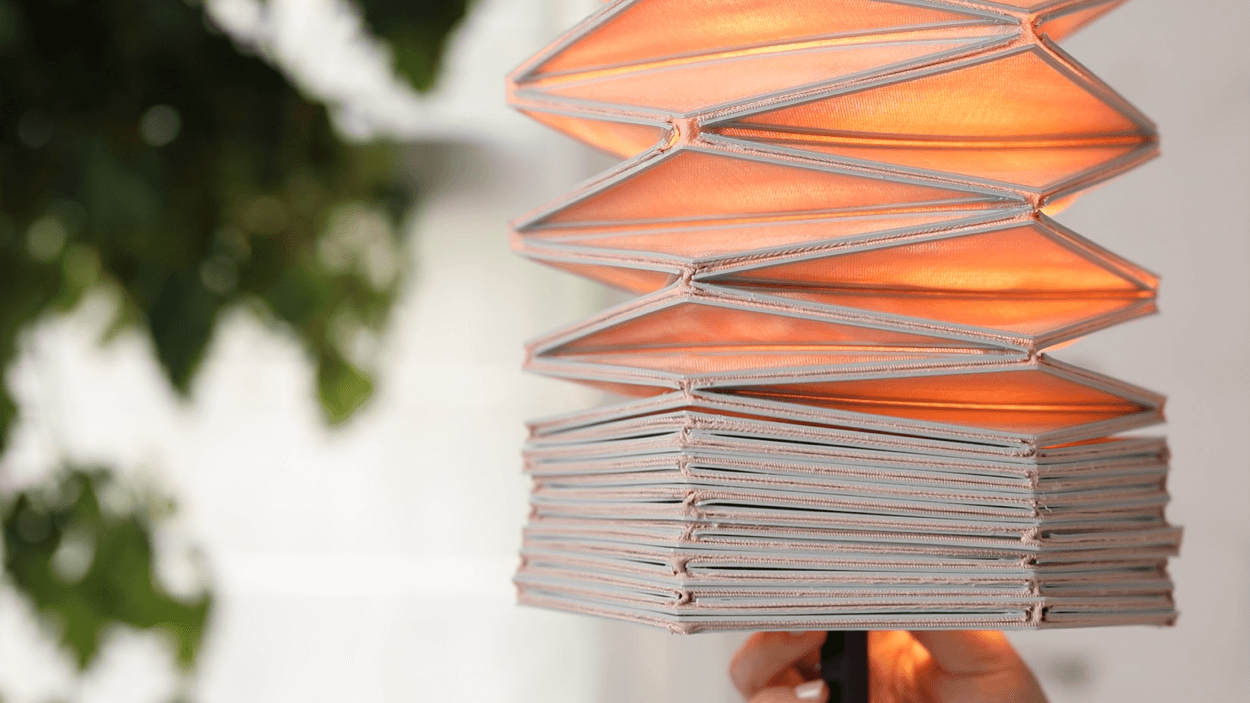 29 August 2019
Brightening rooms with the help of 3D printing
-
By

Jessica Owen
Yael Akirav, an industrial designer from Israel, has recently been working with 3D printing technologies to creative conductive foldable lamp shades. Jessica Owen reports.
Yael Akirav, a 27-year-old designer from Jerusalem, first fell in love with 3D printing and textiles when studying for her degree in the Department of Industrial Design at Bezalel Academy of Arts and Design.
She has since worked with this increasingly popular technique to conduct several interesting projects – the most recent of which is called Conductive Origami.
"Conductive Origami is a series of lighting fixtures which have been 3D printed directly onto textiles," says Akirav. "Rigid printing onto textiles allows for the creation of complex elements."
The printed material conducts electricity and the intersections that stem from the art of origami present the opportunity to turn on the light by contracting and stretching the structure.
The project was inspired by origami folding techniques. Akirav started folding paper in the traditional origami way and wondered how she could make such folds easily on the textiles. After several ways of folding, heating fabrics and ironing, she turned to 3D printing.
"I took the principles of origami folding and surprisingly the 3D filament acted as a structure skeleton and this offered me a way to fold and stretch the fabric multiple times," she adds.
"During the next stage of the research, I was exposed to the conductive filament that is based on conductive silver ink. By combining the skeletal structure and conductive trait, I created a new way of lighting my lamps."
The Conductive Origami series includes three lighting fixtures, each has its own fold and opens differently. Each lamp has two looks also – when they are open, stretched and lit and when they are folded back to the closed position.
The really interesting part about these designs is that the conductive filament means that the structure acts as a dimmer switch. So, as you stretch it out, the light turns on gradually and when it's folded back, the light slowly turns off.
"For my series I designed two ways of opening – vertical and round opening lamps," explains Akirav.
"The third lamp also has a round opening, but its unique quality is that I used two different colours of the filament to create a new surprising visual look. When the lamp is off, the textile looks completely white, and when the light is on, the black and white pattern is revealed through the fabric."
Car pollution
One of Akirav's previous projects – called Bloomiez – was aimed at raising awareness for car pollution.
For this endeavour, she designed a textile-shaped flower that connects to the car exhaust and collected the small pollution particles.
"The goal of my project was to raise the awareness of car pollution," she says. "Vehicles are major contributors to air pollution, 60% of Israel's polluted air is caused by this in fact."
Akirav used a nonwoven cloth that is commonly used in gas masks and air conditioner filters to make these products. Again, she used 3D printing technology to make an outline of the construction on the textile, which helped her to easily create the folded shape she was after.
The final product looks like a white flower and while a car is in motion, the flower collects the black particles, effectively demonstrating how much pollution a car can produce.
It should be noted that the Bloomiez pollution flowers do not reduce pollution; they highlight how big an issue this is. They can help to filter a small amount, but they are no replacement for catalytic converters, for example.   
Conductive inks
Another of Akirav's projects that is worth mentioning is called Tiny Light. This is a children's soft book that is printed with conductive inks that spread light and sound when touched.
"The book is designed to make an interactive reading experience for both children and parents," Akirav says.
To make the book, she used a LilyPad Arduino Main Board, conductive ink and RGB led lights in addition to the main fabrics. Each touch affects the sounds and lights, which are linked to the plot of the story.
"During my research, I discovered the importance of reading books to toddlers," Akirav says. "They help children develop their early cognitive skills, stimulate language and make connections between sounds and words."
Following on from the Conductive Origami project, Akirav has been working on a line of lamps for sale, however she is still investigating the boundaries of 3D printing onto textiles in order to expand the possible applications.
Have your say. Tweet and follow us @WTiNcomment