Co-founder of Pepper Vally, Aliki Goritsa, tells Fiona Haran about the company's Feel More Knitwear project, supported by a European collaboration platform.
It's often said that if smart textiles stand any chance of entering the mainstream market, the industry must collaborate. And here, we're talking interdisciplinary collaboration that combines expertise from various sectors, including design, manufacturing, programming and electronics.
Finding the right team for a project is therefore essential to success – a factor that led Greek knitwear company Pepper Vally to participate in the Worth Partnership Project. Funded by the European Union's COSME Programme for the Competitiveness of Enterprises and SMEs, the Worth Partnership Project creates and supports transnational collaboration between fashion designers, creative people, manufacturing enterprises and technology firms looking to develop design-driven and innovative products.
In Pepper Vally's case, the aim was to combine expertise in knitwear and sensor technology for health and wellness purposes. Together with Spanish technology company Blautic Design, the company established the Feel More Knitwear project – a contemporary activewear sweater with integrated knitted sensors of biometric data for evaluating the physical and emotional health of the wearer.
Founded by Spiros Fragos and his partner Aliki Goritsa, Pepper Vally has always taken an interdisciplinary approach to textiles – combining design, cutting/programming and knitting machine facilities in the same space.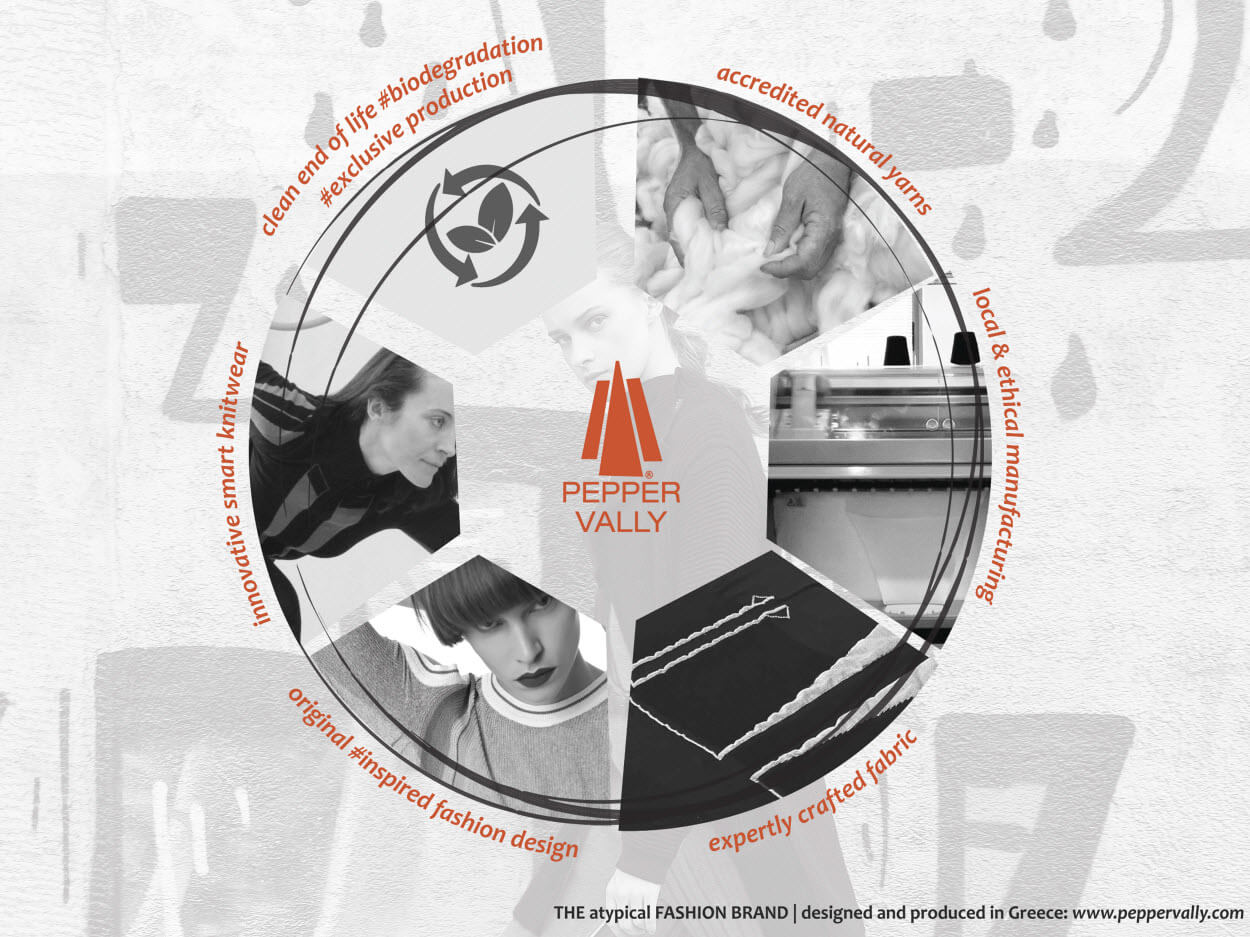 The company is committed to being a circular organisation, using only natural fibres and conducting its manufacturing processes at its facilities in Athens
Besides this, the company places a huge importance on sustainability, using only natural yarns from accredited European yarn suppliers and carrying out its manufacturing processes in Athens. "We have our own brand, Pepper Vally, but we also design knitwear products for other companies with special features," says Goritsa, who adds that the company is a 'circular' organisation. 
Discussing its involvement in the Worth Partnership Project, she explains: "Feel More Knitwear was a great opportunity for us to explore new possibilities in the field of smart textiles – enabling us to collaborate with another company inside Europe. In our case, it was a company specialising in smart and electronic solutions and software and hardware customisation."
She continues: "This gave us an opportunity to make this product for the smart textiles sector and we managed to integrate advanced new biometric sensors into a knitwear structure, combining the use of natural yarns. This led to a fully workable, easy to wear and washable prototype that can continuously monitor data – technology that can be integrated into a whole knitwear collection. It's also accessible to a wide audience, meaning that it's not too expensive and could be done with more than one prototype."
Elaborating on Pepper Vally's partnership with Blautic Design, Goritsa calls it a 'perfect match', combining customisable electronic solutions with the 'craftmanship of textiles'.
"This was the benefit of the programme – that we could collaborate with other companies and combine our expertise, because if you're a small company, it's the only way to combine other features that get you to the next level," says Goritsa. "After all, smart technology is already very widespread but not so much in the textiles sector. It was difficult to explore and get this result, but we think we are in a good space right now."
The final prototype therefore involved a lot of trial and error, as she explains: "It is very difficult to integrate such sensors into the knitted structure. But the advantage of knitwear is that you can create a pattern according to your needs, a benefit of the flat knitting process."
She adds: "Within the design, you can use special yarns in specific places and natural yarns in other places. We had to do many tests in order to find out which positions were better, and then we had to change them, along with the pattern, as it didn't work in these places. We had to decide which sensors were the best to use."
Health monitoring
In terms of the end-use applications of the activewear sweater, the clue is in the title – with the company specifically interested in the athleisure market, where sport and fashion come together, as well as the health and wellness sector. According to Goritsa, these industries have expressed an interest in the product, but 'they're very sceptical as there are not many products available now in this field'.
She continues: "This is the main problem, that it's not accessible to a wide audience because of the price. These solutions are therefore not very productive as they tend to stay in their prototype or on a test level. Industry has a great interest, but they want to see how we could customise this solution and make it productive, effective and scalable to a lot of people – not just for special use cases."
Expanding on her vision for the product, Goritsa says: "We would like, for example, a fashion company that makes advanced sportswear to integrate such technology, to give their customers the extra benefits of this smart technology and make it accessible."
She believes that this can be achieved through Pepper Vally's knitwear – with its natural yarn focus being a key advantage. "A lot of efforts in this field don't use natural yarns – most of them are synthetic and adjust the technology that's already in a smart product. In our case, we make it from scratch to exact requirements, and make it comfortable and kind to skin and washable without the use of synthetic fibres."
The data obtained from the activewear sweater, says Goritsa, is designed to help people and healthcare professionals make sense of the wearer's biometrics. By applying the integrated smart technology, data recorded from a person's everyday activities, such as running or cycling etc, could be transmitted remotely to a doctor – helping them to make a diagnosis and suggest appropriate treatments. "It could be customised according to the needs of the wearer or the suggestions of the doctor."
Driven by its recent collaboration, Goritsa says the company will continue to develop the Feel More Knitwear project as it 'has a lot of possibilities in specific fields'.
She concludes: "We believe that you must use all the tools you have from both technology and nature and use them to solve problems in everyday life to understand yourself. This is our belief as a company and personally. This is the only way to develop right now, to be transparent – not just create problems in order to sell products."
To find out more about Feel More Knitwear and the Worth Partnership Project, visit https://www.worthproject.eu/project/feel-more-knitwear/
Have your say. Tweet and follow us @WTiNcomment