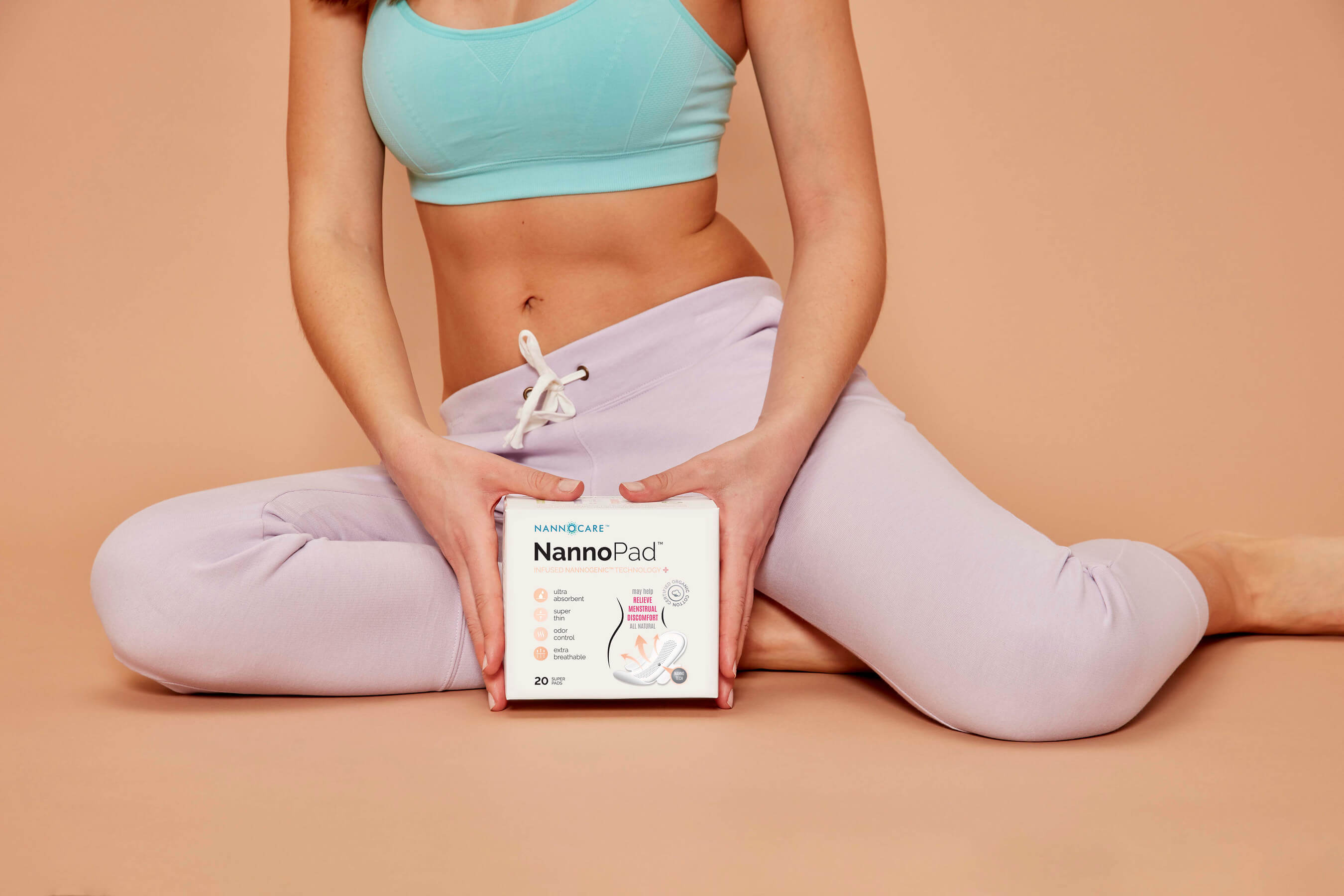 12 September 2019
Nannocare introduces biodegradable plastic packaging
-
By

Fiona Haran
The company behind NannoPad, a sanitary product using far infrared technology to alleviate menstrual discomfort, has introduced plastic wrapping that can be degraded within one to three years after disposal. Fiona Haran reports.
Maximum absorbency is a primary consideration when it comes to disposable hygiene products, but in order to be innovative in today's market, this often requires additional health-enhancing benefits – whether this be advanced comfort, fit and softness or pain-relieving properties.
It was for this reason that Nannocare caught our attention – a Los Angeles-based manufacturer of sanitary pads, branded NannoPad, that alleviate the symptoms of menstrual discomfort using a natural, safe alternative to menstrual relief medication. This is achieved through a proprietary blend of concentrated particles that emit far infrared energy, which the company says has a 'notable improvement over other menstrual solutions'. What's more, NannoPad is also hypoallergenic, made of USDA, OCS-certified organic cotton, and as thin as nickel with the same absorbency of other pads. It is also free from chlorine, pesticides, dyes and fragrances.
Following the launch of NannoPad in mid-April 2018, the company enhanced its innovative portfolio this summer by introducing biodegradable plastic wrapping for individual pad and pantyliner packaging, which can be degraded within one to three years after disposal. The company says this is the result of research and development that 'has never stopped since day one' as well as ongoing product improvement and expansion.
Where it all began
NannoPad is the brainchild of Nannocare's founder, Paul Van Kleef, who studied far infrared technology when he travelled to Asia – something which has been used for holistic health for many years, particularly in China and Japan. Researchers have found far infrared can be helpful for enhancing blood circulation, reducing pain, strengthening the cardiovascular system, easing joint stiffness and inflammation, and revitalising skin cells.
The catalyst that led to the development of NannoPad was Van Kleef's girlfriend, who had been suffering from menstrual pain and taking painkillers every cycle for years. In 2016 he began carrying out research to create a formulation that can be implemented in menstrual pads, which was tested as safe in a laboratory in 2017. The Nannocare team was then established in 2017 with investment from Dr Lisa Benest, a board-certified dermatologist who also has a degree in homeopathic therapy.
At the beginning of the development, the company tells WTiN that Van Kleef partnered with several entrepreneurs and experts to quickly and effectively bring NannoPad to market. They then brought in Xiaolin Li, who has nine years' experience in product development and international trade. As a consumer herself, she brought in the organic touch for the product using certified organic cotton. After Li's research of the materials layer by layer, the team eventually developed a finished production line for NannoPad. Right after NannoPad was officially launched, Nannocare brought in Victoria McHenry, VP of sales, with 10 years of experience in consumer product distribution, who plays a significant role in the expansion of NannoPad's retail footprint.
As a result of McHenry's input, Nannocare recently announced that it plans on growing its retail distribution at a number of new stores across the states, including bookstores, supermarkets and pharmacies.
"By the time we launched, we saw the market trend for most millennial brands is online subscription. However, we think what's more important is to make the product as accessible as possible, including smaller towns that are not convenient for deliveries, or have limited internet and subscription model services," says a spokesperson for the company. "Unlike most companies and startups in this space, Nannocare started small with a small amount of private funding from friends and angel investors. What has been supporting our rapid growth is our team of professionals who are dedicated and passionate about this proven technology and its incredible benefits."
Consumer feedback
NannoPad is designed to improve microcirculation in the pelvic region up to 1.5 inches reaching the pelvic floor. The enhanced microcirculation stimulates the tiny blood vessels to help ease menstrual discomfort.
According to Nannocare, the pads are highly recommended by many consumers who report that NannoPad not only helps to relieve the discomfort but also locks in heavy flows and helps with odour control naturally.
"We have received numerous comments, emails and reviews from women who have tried and rave about NannoPad. Our proprietary Nannogenic technology has been extremely beneficial to our customers with their discomfort," the spokesperson says. "Some said that they have 80% of their menstrual cramps reduced; some have been able to cut the dose of painkillers they had to use for their menstrual symptoms; some noticed a significant result of odour control. Apart from the discomfort relief, most of our users were impressed by how thin, soft and absorbent our product is."
In order to test the effectiveness of NannoPad, the Nannocare team conducted three rounds of user and lab testing, both in-house and in certified laboratories including SGS and NAMSA labs. The company tells us that the first two rounds of user testing were conducted with 200 women in Asia and 45 women in the US. Each woman tried NannoPad for one cycle before they filled out the questionnaires. The third user testing was a blind placebo method, which had over 54 women split into two groups. One group was using NannoPad and the other group used regular organic pads available on the market. "The panel was not notified about the discomfort relief, odour control or hypoallergenic features," says the spokesperson. "After the testing, the NannoPad group of users showed a significant positive result over the placebo group – peaking with a 95% confidence level."
Subscription service
Like a growing number of disposable hygiene product manufacturers these days, Nannocare also offers a subscription service for NannoPad. This, it says, benefits customers who live a busy lifestyle and may forget to replenish their menstrual products. It also benefits customers who have irregular menstrual cycles, to avoid an 'emergency run' to the store when it is needed.
"We appreciate our subscribers by offering free shipping, because they are the base of the Nannocare community," the spokesperson says. "We often receive emails from them regarding how they like our products, and suggestions for improvement. One of our favourite comments was about how NannoPad changed someone's life; we have received that same type of comment from multiple customers, which really makes every effort we made worth it."
Further developments
The spokesperson revealed that the company has a new product line coming early next year. "There will be more than 10 variations of innovative products that fill voids in the market coming up within the next two years. As our innovation and research continues and is never-ending, our goal is to make our products even more comfortable, sustainable and accessible."
Besides this, the company practises ethical operations by donating to non-profit organisations for homeless shelters (over 40,000 units have been donated so far), the endometriosis society and youth in need. "Many times, feminine care products are overlooked but they are an essential item that we know many women do not have access to, and we want to change that," the spokesperson says. "We also support events that empower female musicians, women in business, the changing female community and landscape and women's health, to spread the word that natural, organic and safe should be the norm, not the exception."
Read more about Nannocare and its efforts at www.nannocare.com
Have your say. Tweet and follow us @WTiNcomment