Silicon Valley tech-fashion start-up Art by Physicist has unveiled a new collection on Kickstarter inspired by science, nature and space. The company's founder, Dr Kitty Yeung, tells Fiona Haran about the brand's mission.
The integration of technology in fashion has resulted in some innovative and futuristic concepts. But it's become clear that the mass manufacturing model that the traditional fashion industry has been accustomed to isn't necessarily a perfect fit for tech-fashion – particularly when it comes to creativity. Big brands entering this space often find that they have to reduce the complexity of their designs in order to achieve scalability. And for smaller companies often lacking capital and resources, the end goal can seem impossible.
For this reason, Dr Kitty Yeung decided to take a different approach to tech-fashion with her Silicon Valley start-up, Art by Physicist.
"I found that the current mass production model doesn't support creativity, because it's profit-driven," says Yeung. "Brands tend to pursue something that can quickly make them money rather than encouraging designers' ideas to bloom. So, I wanted to challenge that."
Powering fashion
Launched in 2019, Art by Physicist is focused on sustainable, electronically enhanced fashion for women, with the aim to 'push the industry towards a made-to-order model'. Earlier this month, the company unveiled a debut collection on Kickstarter that includes a solar-powered dress, a self-heating reversible coat, a Wi-Fi programmable dress, customisable LED fabric designs and Bluetooth accessories. Each item in the collection combines 'cutting-edge' wearable technology and 'one-of-a-kind' hand-designed art prints that celebrate 'the beauty of science, nature and space', according to the start-up.
Explaining what led to this venture, Yeung says: "I started exploring the [tech-fashion] space when wearable technology just became a thing in around 2015 and 2016. So, when open-source hardware became available I started tinkering with those hardware pieces. I then started embedding them into clothing. The hardware wasn't really designed for clothing, but I saw the interesting combination between art and tech, and I wanted to do that."
Yeung was able to utilise her resources at Intel, where she previously worked, to gain a better understanding of the challenges facing this industry.
"Back then, there weren't really e-textiles," says Yeung. "I made some designs to demonstrate the technology. I designed a T-shirt with flexible circuits, and some wearable accessories. I made the prototype by hand, but then it was not scalable. There, we could not find manufacturers that were able to do this at scale; there were some very early printed electronics companies but the solutions were not mature."
Yeung found that the traditional embroidery companies she approached 'had no idea about conductive threads', while similarly, electronics manufacturers 'didn't know how to make fashion'. She also recalls 'a lag of ready-to-wears' that, despite being 'cool, flashy and very futuristic' were just demos and that the 'interface was clearly not ready'. "I became very curious [and wondered], 'How come something I can do myself is not achievable by the manufacturing industry?'"
She therefore decided to 'dig deeper', eventually becoming 'the person that bridged the two sectors': "I wanted to understand how one converts their crazy, creative ideas into something repeatable, and that more people can enjoy," says Yeung. "So, I started my brand to specifically tackle this lack of integration between tech and fashion. And I continue to do this. We were able to establish collaborations with a lot of companies that now have solutions to build out the creative tech."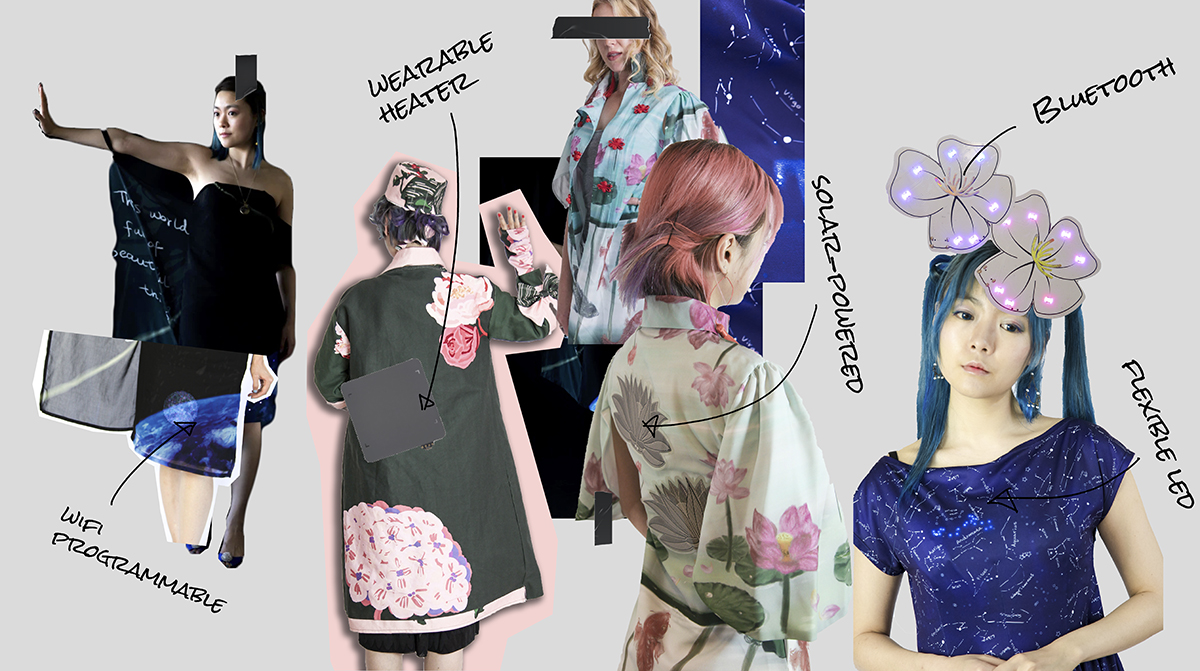 Art by Physicist's debut collection features tech-powered garments inspired by science, nature and space
Connecting the dots
Art by Physicist's new collection features original hand-drawn paintings created by Yeung, and collaborations with ARMOR Solar Power Films, DFRobot, NovaCentrix and Loomia, to offer an innovative clothing line that is "not just stylish but presents solution-focused, smart designs that integrate with your smartphone and your wardrobe", says the company.
Yeung explains that most of these industry connections were made at conferences where she was asked to give talks on her work. This also provided an opportunity to discuss her mission to encourage more women into STEAM (Science, Technology, Engineering, Arts and Maths) programmes. Such that, Art by Physicist's Kickstarter campaign will donate part of the profits to platforms supporting this cause.
"I think there's a big market in this. When you look at the fashion industry, it's a three trillion-dollar market, and women are the driving force. Women want interesting designs with variety, and not just sportswear or medical [apparel] where they have more sensitivity to the design. But we don't see much application of technology to provide options for women," she says, adding that "there's not enough encouragement for girls to get into tech".
As a physicist and artist, Yeung is keen to change this story. "I think this is an opportunity where we can show girls that we have technology that you can use to make anything you want. You can be creative and build beautiful things out of tech," she says. "So, I myself focused on technology but also did art on the side. And I found that fashion was a perfect marriage between the two. I basically treat a piece of clothing like a substrate where I can build technology electronics on top. I want to share that with the broader audience."
Kickstarter is an ideal vehicle for delivering this message, with Yeung seeing it as 'an opportunity to test the market and to engage with the community'. She says: "I found that it's always got to be the case for fashion as everyone has a very different specific requirement for what they wear. And then sizing is always a problem for people, and it's not just sizing, it's also body shapes.
"Right now, the way that everyone manufactures clothing [involves] a set of graded sizing. And people have to fit their body into the existing size instead of the clothing adapting to people," she continues. "So, for one of my designs, I learned this within a week, and then I quickly changed it [to produce a custom-made design]. So, I'm using very untraditional ways of design."
With this, Yeung's aim is to 'build things as digitally as possible'. "I make digital paintings and they can be printed on fabrics," she says. "I also make digital patterns that can be directly printed on fabrics, which means I can just adjust the pattern according to people digitally; I don't have to make hundreds of different types of body shapes for different people. And I can use a simulation tool to look at how the fit will work on different body shapes."
Creating added value
As alluded to earlier, the current mass production model for fashion brands poses a considerable challenge to those incorporating technology into their collections. Hence why Yeung is taking the customisation route: "I think there are always going to be fashion brands trying tech collections once in a while," she says. "But I think it's probably still going to be a niche market, especially for luxury brands. They already sell to a very small part of the population. That's one thing that I wanted to also change – that high-fashion designs are very eye catching but they don't serve more people. And that's why I'm making ready-to-wears that are affordable so that anyone can buy them. Now that we're moving onto customisation, I think more people will find things that suit them."
Other widely reported barriers to tech-fashion adoption rates are washability and disposability – something Yeung aims to explore further.
"We have to design [the electronic components] in a way so that they're removable from the textile when you wash it," she says. "Some of them are washable, but I'm more worried about the mechanical damage than the water damage. So, they do have dedicated joints, so that is a compromise. Even though they are part of the fabrics, we do make some of them removable. Definitely the battery shouldn't be washed, so people should know that they need to remove the battery.
"For disposing, this is super new for anyone to think about, but it is very minimal electronics," she continues. "Compared to our phones, it is usually just one piece of electronics. And you can use it for years and years. This is something we definitely want to explore if it becomes mainstream – that more of our clothing will start to have functionalities but we should have a good way to dispose of the electronic parts."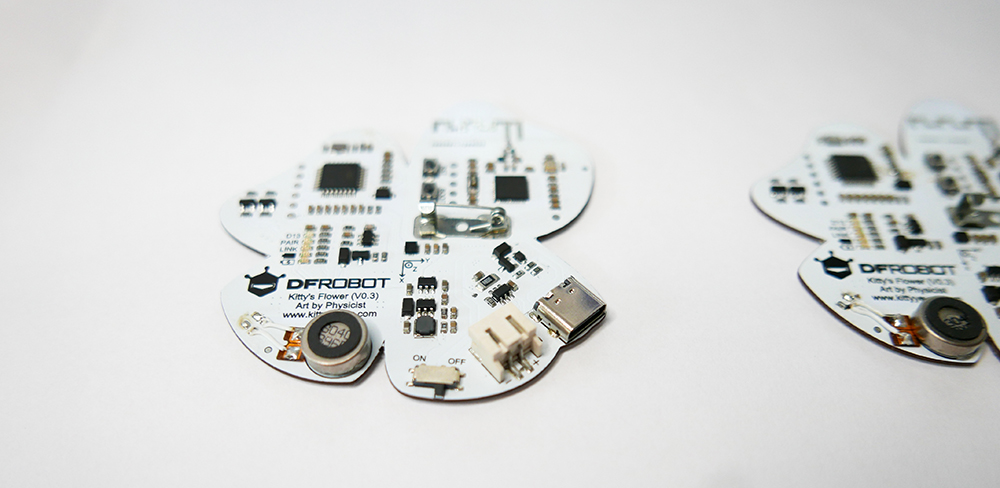 Yeung says that electronic components should be designed to be removable from the garments to ease washability and disposability
It could be argued that adding extra value to clothing through embedded electronics could contribute to the so-called slow fashion movement. After all, if we value our clothing like we do our smartphones, surely this could promote longevity? And if we have the added benefit of customisable options, this strengthens the argument.
"Right now, the industry has so much waste and pollution; 30% of clothes made are never sold every year," says Yeung. "This generates so much carbon dioxide: 10% of that, globally, is from the fashion industry. I guess for my small brand, it's easier to control. But we still have to reach a certain minimum volume quantity; the smallest one so far has been 50. So, if we can get to that level, then we can go produce it. Otherwise, we would need to make things bespoke. And one piece at a time right now is very challenging. But I think the industry would [do this] gradually.
"I want to stress the fact that we can drive the technology to not just the hardware embedding, but also use technology to build made-to-order," she continues. "For me, this brand is embodying many different aspects that I want the world to be. I want to contribute to society in a positive way, rather than doing overproduction and then burning things and sending them to landfill."
To learn more about Art by Physicist and its debut collection, visit: Art by Physicist - Tech-Fashion, Where Art and STEM Meet by Art by Physicist — Kickstarter
Have your say. Tweet and follow us @WTiNcomment