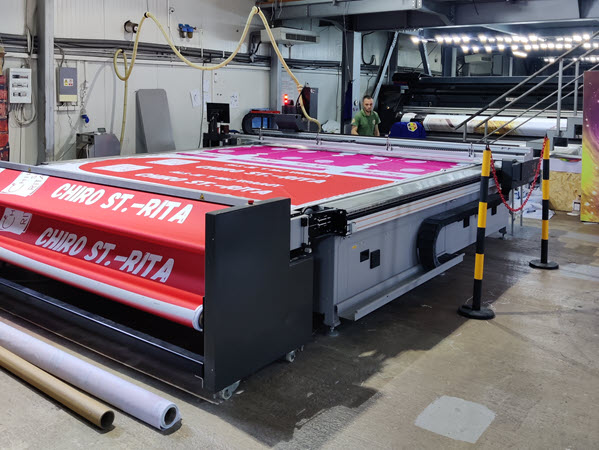 12 May 2021
Romanian print house taps into European market
-
By

Otis Robinson
Otis Robinson speaks with Robert Buta, founder and director of Romanian print house Rofobit, about the company's experiences in the local digital textile printing market over the last year.
The rapidly growing digital textile printing market means many print houses are aware of the value in investing in technology as an anchor in a tumultuous market and an arrow aimed to success. This is especially so in Europe, where original equipment manufacturers (OEMs) are rife and hyper aware of the demand for innovative printing technologies.
"We are well connected to the latest market technologies," says Robert Buta, founder and director of Romanian print house Rofobit. Founded in 2004 and situated in southwestern Romanian town Bragadiru, Rofobit has since offered digital printing services to the regional market, powered by its technological investments. "We use all opportunity to implement [these technologies] to create good quality products."
Print house operations
With four textile printers fixed in its production line – a d.gen Teleios Grande H12 and two ATPColor DFP-56EWs for direct-to-textile printing and an EFI Vutek FabriVU 360i dye-sublimation printer – the company can print textiles at a width of 320cm, using disperse inks for direct-to-fabric printing and sublimation inks for transfer paper printing.
Its arsenal of digital printing technology makes the print house ideal for specific wide-format print purposes. The company produces printed fabrics for products including customised flags, beach flags, wave fabric covers for 3D aluminium systems, backlit fabrics, textile banners, home décor products (curtains, drapes, and blinds, for example) and more.
But in Romania, the pandemic had a 'strong effect' on the digital textile printing economy, the Rofobit founder explains, which meant the print house had to evolve even further to remain competitive.
"All exhibitions and events were closed, shops closed, therefore all prints were cancelled. Recently, we have seen signs of recovery, especially in the flag and stores sector."
The company thus worked at reduced capacity with a limited personnel of only 28%. To keep businesses afloat and ahead of market trends, many companies turned to digitalisation as a way to build return-on-investment (ROI) – arguably a risky move given the state of the market, but one that, for many, paid off.
For example, Buta says Rofobit began to produce reusable, customisable face masks at the end of March 2020 after investing in automatic sewing and stitching machines. Not only was the company able to provide an essential PPE (personal protective equipment) item to the local industry (approved by accredited laboratories for bacterial filtration efficiency and washability), but it was able to keep itself running during a tumultuous period by catering to the demand for printed textiles as consumer usage of masks became an opportunity for personalised fashion.
Nevertheless, the founder admits he is ready for industry to return to normalcy: "We await on exhibitions and events [reopening] to try to be equal [to the economic standard prior to the pandemic]."
In the meantime, however, the company is operating at full capacity according to the country's safety guidelines and growing vaccination numbers.
"All employees are present and complying with sanitary instructions: masks, disinfection of workspace, distancing, UV sterilisation at night. The most important aspect is that 85% [of our employees are] vaccinated."
European competition
Ultimately, the quarantine period throughout 2020 was a double-edged sword. Although people could keep themselves safe from risk of coronavirus, it shut down global supply chains and limited the ability of print houses to cater to new and growing local demand. But those who could implement safe, albeit restricted production – such as Rofobit – were able to tap into an unexpected area for growth: localised production by European business, for European business.
Transport issues from Asia and the Far East meant that, during the pandemic, European custom sought out European supply. Consequently, Eastern European textile product and printed fabric suppliers soon became a convenient, local alternative – a move that ultimately helped support the European textile industry and kept it somewhat chugging along.
Companies such as Rofobit showcase how Eastern European textile printers were able to slowly increase their stronghold over the European market during the pandemic to compete with hubs like China and Bangladesh, whose supply chains had been restricted.
"We supply both domestic and international markets as a response for good quality print demand," explains Buta. "We sell our textile products to the Romanian market, but also in Germany, Holland, Belgium, Austria and the UK."
But Buta admits that while the Eastern European market is growing, it still faces competition from across Europe itself. For instance, hubs including Portugal produce much of the local textiles, meaning competition on the European continent for European demand is increasing.
In a move that will perhaps keep up its competitive angle as digital textile printing transforms the face of home décor, Rofobit plans to cater to a 'constantly growing' home décor market in the textile printing space.
Its 2021 is set to include new digitally printed textile products such as doormats, bathmats, carpets and shower curtains.


For more information on Rofobit, visit www.rofobit.ro.
Have your say. Tweet and follow us @WTiNcomment