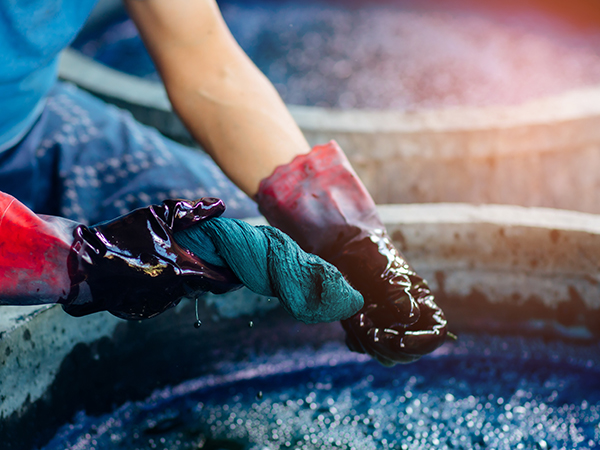 2 March 2022
Industrial IoT advances textile laundry services
-
By

Andreia Nogueira
1. Introduction

Competitiveness in the textile & apparel manufacturing sector is increasingly driven by sustainable production. This plays an important role in finished textile and apparel laundering processes, which are marred by their detrimental environmental footprint.
The entire textile sector has significant improvements it can make to increase its sustainability. An Ellen MacArthur Foundation report notes the textile industry's share of the carbon budget (the amount of CO2 humanity can produce while containing global warming) will grow from 2% in 2015 to 26% in 2050 if it fails to improve its environmental footprint [1]. More specifically, the report adds that the dyeing and treatment of textiles is responsible for 20% of industrial water pollution globally [1] – a harrowing statistic that highlights the need for gargantuan reform for the sector.
But regulatory pressures such as Germany's supply chain due diligence law – which from 2023 will require large companies to prevent and address "human rights and environmental abuses within their own and their direct suppliers' operations" [2] – have increased the value of innovations such as green laundering. And at the annual UN climate conference COP26 in Glasgow, last November (2021), moves were announced to push companies to comply with global standards on climate change [3]. Additionally, the Covid-19 pandemic inspired a wave of automated services that has increased the potential for reshored or near-sourced finishing and laundering. Thus, digitalisation and regulatory pressures may encourage a transformation in industrial laundering.
Here, WTiN Textile 4.0 investigates how the Industrial Internet of Things (IIoT) is helping automate laundry services within production and explores the quality control systems capable of reducing the sector's environmental footprint.
2. IIoT and textile manufacturing

Arguably one of the most important technologies of this century is the IoT's network of sensors, software and other technologies. This technology connects and exchanges data with other devices and systems online and has already played an important role in textile manufacture and retail. They deliver seamless communication between people, processes and objects [4].
Experts predict there will be 25.44bn connected IoT devices by 2030 [5], allowing businesses to record, monitor and adjust interactions between connected goods and production equipment, with minimal human intervention. Thanks to the huge amount of cloud data, internet searches from customers and easy and quick availability of recent designs, virtual digital sampling tools utilising modern computer-aided dispatch systems (CADs) have caused the reduction of the fabric wastage, reducing laundering-based pollution [6].
The IIoT, of course, extends IoT applications to industrial sectors, with a strong focus on machine-to-machine (M2M) communication and the manipulation of big data banks [7]. The addition of machine learning (ML)-utilising algorithms to examine large volumes of information or training data to discover unique patterns may also boost the efficiency of laundering during finishing [8]. Robotics handling and processing fabric and related products is also particularly well-suited to IIoT, notably through its real-time ability to find errors immediately and address them quickly, optimise the use of assets, predict points of failure and even trigger maintenance processes autonomously [8].
Shubham Anil Jain of the department of textiles at DKTE's Textile and Engineering Institute, India, explains: "IoT has potential application in the manufacturing sector, from the fibre to a finished fabric. By optimising various blends to detection of fibre characteristics using AI and storing and processing data using IoT will leads to less variations in final product, [IoT can help improve] quality, reduce time, reduce manpower, reduce paperwork and reduce machine stoppage etc, with instant detections of machine faults, helping enhance equipment life."
3. Improving washing procedures

Artificial intelligence (AI) applications through IIoT networks may boost finishers' ability to calibrate their washing and pre-washing systems. Christian Schindler, director general at International Textile Manufacturers Federation (ITMF), based in Zürich, Switzerland, stresses that this is very much a developing technological advance.
Schindler explains: "AI is an important technology that allows [brands] to analyse mountains of data, and the area where it is applied most is in the fashion/end-consumer area," but stresses that "more and more textile machinery companies are making use of AI."
For example, AI is used for defect detection purposes. Diana Wyman, executive vice president at the North Carolina-based American Association of Textile Chemists and Colorists (AATCC), adds that "general defect detection is increasingly automated," offering pre-washing finishers a production stage in which to pinpoint problems with products. Wyman says: "Evaluation for smoothness, colour change and other properties is also becoming more automated. Test methods that were once evaluated visually can now be evaluated more quickly and more consistently by machines.
This technology is most advanced in the area of colour measurement but is coming along in other areas as well." Wyman anticipates the integration of IIoT in pre-washing finishing is under consideration: "It will be some time before such technology is fully developed and trusted, but it is definitely on the horizon."
Ana Dinis, executive director at the Textile and Clothing Association of Portugal (ATP - Associação Têxtil e Vestuário de Portugal), tells WTiN Textile 4.0 that nowadays, "in different processes, including laundries, dyeing and finishing, it is usual to use sensors, technologies and information systems that allow collecting different information about the processes." This allows manufacturers to calculate, adjust and control the different parameters and requirements of the process, calculate materials, temperature, water and more, she adds. She says that sharing information gathered throughout the production process, brings efficiency and optimisation of processes and resources. It also limits process stops, minimises waste, errors and defects, improves speed and output quality, with gains in effectiveness and sustainability. Additionally, interconnected data and information feeds different departments, allowing better management and planning, transparency and control and reduce production costs, she concludes.
4. Washing processes to benefit from IIoT

The laundering finishing segment is a focus for innovation, aided by the large swathes of businesses in the commercial washing and ironing of clothes and linen [9] – for instance for hotels or hospitals. Pre-washing and washing in finishing benefits from the technologies developed for post-sale laundering.
Equipment has been developed to remove impurities, oils and lint. Pre-washing can aid the processing of warp yarns to enable weaving. Prewashing for textiles can remove and adjust dyes, aiding chemical finishing through de-sizing, to adjust warp yarn sizes and help with absorbability, dyeing and printing in woven fabrics [10]. Wash and wear systems give textile properties, easing their post-purchase care by consumers and once dry, can be ready for use without ironing [11].
Denim washing, includes, for instance, sanding to soften a fabric and give it a worn look [12]; sandblasting, utilising localised abrasion or colour changes [13]; stone washing with enzymes, which also produces a washed-down look; sand washing, undertaken with very small size pumice stones [14]; and snow washing. The latter is a more eco-friendly alternative to stone washing and combined with enzyme washing, which uses cellulase enzymes to 'eat away' at the exposed cellulose, loosens some of the dye particles and gives the garment a worn, aged look [15]. All these varied processes can be better calibrated and operated through the use of sensors integrated into production cycles. It is the same for brushing's surface abrasion which gives denim an aged appearance [16]; rinsing to remove excess dye, especially helping dark jeans preserve colour [17]; and bleaching, to decolourise indigo from its denim [18].
IIoT and digitalisation of design can give companies the information they need to decide on what kind of washing they need to undertake in terms of, for instance, temperature, number of washes, added stones and the number of gentle cycles needed to avoid damaging a product.
5. Are companies ready to provide IIoT washing procedures?

a. Benninger
Benninger, a 162-year-old Swiss company, develops automated machines and systems for the textile finishing sector. The company is ready to provide IIoT tech to aid pre-washing and washing finishing techniques. According to Hansjörg Uhl, the head of automation technology at Benninger, the tech company took its first steps into the world of IIoT 10 years ago.
At that time, "it was not called IIoT or Industry 4.0, but we had some features like networking in the machines and advanced data management," he says, and that "there were only a few customers who were interested in collecting data from our machines."
However, today, "every second, we see customers asking for a connection of their machines to their [computerised] systems and to exchange data," he says. "I am sure in about five, seven, 10 years, all [textile production] machines [will] have to be connected to a centre network on the customer side and use IIoT structures to get the machine better controlled."
For instance, Uhl says that today, in markets where consumers are sensitive to environmental sustainability such as Europe, it is 'more or less the standard' to have data of water and steam counters sent to manufacturer customers' databases. This can help them manage their environmental footprint.
The company has been upgrading the technology of its washing gear [19], such as the Trikoflex drum washing device. This technology is available up to a working width of 5,400mm and is delivered with a cylindrical expanding roller for particularly sensitive textiles for wet and steam applications. Also, Benninger's Küsters Multipad is a machine developed for complex impregnation of finishing elements tasks on woven fabrics and knitwear using electronically monitored, automatic lubrication. Also, the company's Tempacta washing steamer for knitted fabrics, which was developed for low-tension washing processes and is mainly used for dilution washing, has a counterflow process taking place in multiple stages to aid fastness. Its online measurement of the degree of contamination regulates the necessary amount of fresh water needed to guarantee the lowest possible water and energy consumption and ensure a high reproducibility of the washing result.
Uhl stresses that none of Benninger's washing devices are controlled manually, but all have a programmable logic controller (PLC) to control motors, pumps and other equipment. The PLC gets information from sensors in the machines, which monitor properties such as conductivity sensors or pH sensors. They process data and trigger actions based on pre-programmed parameters.
He adds that the company can transmit data culled by these machines "over networking to the customer or to overlaying [transferring a block of data into the main memory, replacing older information] systems." With this data, manufacturers can better plan their production and manufacturing modules in terms of resource allocation of employees, materials and production capacity.
PLCs were originally designed to support programmability, reliability and real-time response by reacting to local inputs and outputs, using internal control algorithms to react to changes and drive logic level and analogue outputs to control external actuators [20].
However, each PLC was designed as independent with its own configuration. However,  nowadays, when the industrial automation requires much greater flexibility, "individual PLCs need not only to cooperate with each other but to work more closely with systems that lie beyond the factory itself, right up to servers in the cloud that process customer orders and requests in real-time" [20]. That is where the IioT helps, by offering stronger cooperation between the control systems.
By integrating the PLCs and their parameters into the cloud, all Benninger washing machines can work with IioT, depending on customers' requests, Uhl says. He adds: "It is only the question of how many sensors we install in the machine to get a better control of the whole system."
Patrick Brändle, Benninger's head of textile technology, explains this is why the company does not sell two identical products. Its machines "are always configurated out of different elements according to the requirements of the customer" in terms of parameters, processes to supervise, type of sensors, and the "substrate [a customer] wants to process because different fabrics need different machine types or different execution or features." And while additional sensors may inflate the price, "normally, the savings, the return [on investment] is quite good."
Uhl gives examples of processes already in place: "If you wash dye fabrics, you can sense the amount of dirt or released wash of dyestuff in the mass. In this way, a company can regulate water usage so it is used in the best practical way – not wasted and not too little, potentially damaging quality." Indeed, machines can automatically regulate their water usage, or amend the amount of caustic soda used in a desizing process, depending on the size of the fabric being fed into the production line.
To develop such innovations, Benninger needs software, PLC programming, IT, data analytics and machine development experts to work together, he explains.
Since Benninger designs, builds and commissions, these specialists must work together very closely and quickly. Innovative ideas are welcome from all helping automate processes to save on inputs or to have a better-quality control. Uhl says: "The basic development costs […] a lot, but we want to […] hold our place as best in class, so we have to develop such things. We are not looking so much at the costs. We are looking at the solutions."
Brändle adds: "Ten years ago, a connectivity to a machine was quite expensive because it was complicated" and maybe only 5% or 10% had integrated sensors – now the proportion has risen to 85% or 90%. Brändle continues: "More and more costumers come up and say: we want to have the connectivity; we want to reuse or process this data." He adds: "[Clients] want to have all the features which are available for now [and] if they connect [to them] or not – maybe not now – they will do in the future."
Uhl concludes that IIoT can help the finishing pre-washing and washing segment reduce its carbon footprint: through automation, machines can automatically adopt optimised processes. This is increasingly important as companies seeking to diversify their offerings adopt more fabric types and production processes. 
Furthermore, sensors reduce laboratory testing costs. Specialists can use a sensor to adjust the machines instead of undertaking scientific trials by integrating earlier test results into machine operational systems, which learn from the data and "do things according to what is necessary."
b. Sewts
Developing solutions for the laundering process is definitely possible, says Alexander Bley, co-founder and head of business development and marketing at Munich-based robotics start-up Sewts, which is developing systems to handle easily deformable materials.
The company, a German tech firm, is funded by the Initiative for Industrial Innovators, APEX Ventures, Bayern Kapital, High-Tech Gründerfonds (HTGF), among others.
He explains that "due to the complex material characteristics, processes involving easily deformable materials have remained largely unautomated," but Sewts has developed a "unique technology that uses high-precision finite element method [a method for numerically solving differential equations] simulations to efficiently train machine learning algorithms," and emphasises this "intelligent software solution enables countless applications in industrial automation."
For this spring, the German company will launch VELUM [21], a robotic solution for the handling of terry cloth and towels, especially for industrial laundries that work for hotels or hospitals, for instance. It will fill a gap in automation, by 'combining standard industrial robots' with the company's inhouse computer vision and AI systems, the co-founder notes: "While AI enables computers to think, computer vision enables them to see, take actions or make recommendations based on that information [22]."
He explains: "Our software analyses the textiles and translates these findings into robotic commands. We provide a system that has low maintenance needs while being highly adaptable, since we are able to train our AI to handle different shapes, colours, patterns, etc."
At present, washed and dried textiles have to be fed into a folding machine with 30% of the personnel costs in laundries alone being accounted by this job, which is highly exhausting and unpleasant, he says. That is why industrial laundries struggle with finding qualified personnel and could double their production if enough workers were available, Bley observed – stressing how robotics could supply willing hands for industrial laundering. Furthermore, "highly industrialised robots have low maintenance needs and minimal down-times," he concludes.
Bley says: "We are absolutely clear that garment production is automatable with our technology." He adds that Sewts' systems started with terry cloth, such as small towels, less complex towels, but the next step will be working with bigger bath sheets, which are heavier and a little bit more complex, and pillowcases, which have two layers of textiles. After that, he anticipates the start-up will develop their handling solutions for workwear, which are heavy-duty clothes.
After its focus this year on laundering, for 2023, Sewts will adjust its solutions for ecommerce and handling returns, which involves making a quality check, refolding items, and putting them back in their plastic bags, notes Bley.
For 2024, "the last step on our tech road map is to use all this know-how – quality checks, grasping point detection, how to grasp a T-shirt and on which corner" – to sew T-shirts, "because we have similar process steps there," he adds.
Bley concludes that various industrial laundry companies all over Europe are interested in VELUM, with the product being tested in an industrial laundry near Munich. Sewts will offer innovative pricing models to reduce the initial costs for our customers, such as a software-as-a-service (SaaS) model 'that provides a high degree of flexibility' and a pay as you go model, where the cost of a product is related to its usage.
c. Perceptilabs
PerceptiLabs, a San Francisco and Stockholm-based start-up conducting research into machine learning (ML), also developed a use case for using ML systems in laundering. Martin Isaksson, CEO and co-founder, tells WTiN Textile 4.0: "PerceptiLabs is a developer tool that makes it faster and easier to build AI models for different tasks," with textile handling being one example.
Its image recognition model could analyse images of textiles to determine whether or not they contained stains for washing production line selection. And, it "could be used in conjunction with real-time camera or video feeds in textile manufacturing plants, to quickly catch defects and improve quality control", Isaksson wrote for the open tech platform Medium [23].
To train the PerceptiLabs model, the company used 68 non-defect images and 398 images with different types of stain defects in polyester and cotton fabrics, collected in the Fabric Stain Dataset on Kaggle [24], and combined them with an additional 340 non-defected product images.
d. Bangladesh University of Textiles
The potential of automating washing processes has also aroused attention among scientists. Last December (2021), at the 8th International Conference on Networking, Systems and Security, in Cox's Bazar, Bangladesh, six researchers from the Bangladesh University of Textiles, in Dhaka, presented a "low-cost IoT based automatic water quality monitoring system for textile industry" [25], which is as cheap as US$100.
Their work was sparked by the fact that "textile industries are one of the most water-consumptive and wastewater-producing industries" and "some processes like sizing, de-sizing, scouring, bleaching, mercerising, dyeing, printing and washing are the most vital processes that produce contaminated water." As a result, these academics created a water monitoring device featuring a "low cost, IoT-based real-time monitoring, online and offline data storing system, backup data transmitting system and alarm system for the user."
Avishek Das Gupta, Zafar Sadek, Md. Harunur Rashid Bhuiyan, Md. Golam Kibria, Tarik Reza Toha and Shaikh Md. Mominul Alam highlighted that parameters indicating water quality, such as pH and temperature, can be measured by sensors that are 'not costly and available.'
They say: "These sensors work together as input section and smartphone or computer works as output section," and the data can be transmitted by Bluetooth and Wi-Fi channels. The device can sound alarms when detecting abnormal water usage and pollution values and can "store manipulation-free data that can be used for audit purposes."
"By applying it in four different industries, we observed that the device can be used in textile industries such as yarn dyeing, fabric dyeing and washing," the researchers add.
e. Jeanologia
Spain-based sustainable textile solutions company Jeanologia, which developed eco wash solutions for garment finishing known as G2 Ozone, "has reinforced digitalisation and automation in its processes and products, working on IoT issues," the company tells WTiN Textile 4.0. The company claims that its systems represent "the most advanced and eco-efficient ozone technology in the textile industry." By using air from the atmosphere, it "generates ozone to treat garments by reacting with fibre dyes, giving them the real look of outdoor usage." This is accomplished with "significant savings of water and chemicals", besides "cleaning any residual indigo redeposition and controlling the cast of the fabric" [26].
Without specifying how this machine works with IoT, Jeanologia says its systems are connected electronically, "creating a digital workflow, from fabric to garment finishing", which is needed to "achieve a sustainable, digital and eco-efficient industry". The company is "prepared to completely digitalise textile manufacturing achieving a production that is 100 per cent ecological". Its end-to-end solutions are complete and functional [27], offering a digital design and pre-visualisation of jean washes. "This digital platform connects laser designers with wash developers, and brands with manufacturers," the company says [28]. "Besides, Jeanologia technologies uses an IoT system to allow constant connection 24/7 with Jeanologia technicians, in order to implement predictive maintenance and optimises the production processes," the company adds.
6. Conclusion

As the demand for sustainable practices in the textile & garment manufacturing industry grows alongside the need for more cost-efficient solutions involving near sourcing and reshoring, IIoT solutions offer ways to make pre-washing and washing finishing cheaper and more effective. New innovations indicate that washing procedures may soon rely fully on IIoT solutions. This is not an easy task, but a consensus is building among researchers and companies that tech developers who develop such solutions will have no trouble in selling them.
References

[1] Ellen MacArthur Foundation, "A New Textiles Economy: Redesigning fashion's future," Ellen MacArthur Foundation. https://ellenmacarthurfoundation.org/a-new-textiles-economy (accessed Jan. 27, 2022).

[2] O. Thomson, "Germany's new Supply Chain Due Diligence Act: What you need to know | Sedex," Sedex. https://www.sedex.com/germanys-new-supply-chain-due-diligence-act-what-you-need-to-know/ (accessed Jan. 27, 2022).

[3] IFRS, "IFRS Foundation announces International Sustainability Standards Board, consolidation with CDSB and VRF, and publication of prototype disclosure requirements," IFRS, 2021. https://www.ifrs.org/news-and-events/news/2021/11/ifrs-foundation-announces-issb-consolidation-with-cdsb-vrf-publication-of-prototypes/ (accessed Jan. 27, 2022).

[4] Oracle Portugal, "What Is the Internet of Things (IoT)?," Oracle. https://www.oracle.com/pt/internet-of-things/what-is-iot/ (accessed Jan. 27, 2022).

[5] A. Von See, "Number of IoT connected devices worldwide 2019-2030," Statista, 2021. https://www.statista.com/statistics/1183457/iot-connected-devices-worldwide/ (accessed Feb. 03, 2022).

[6] S. A. Jain, "Impact of Internet of Things (IoT) in Fashion Industry," Textile Learner, 2021. https://textilelearner.net/internet-of-things-iot-in-fashion-industry/ (accessed Jan. 27, 2022).

[7] SAS, "Big Data: What it is and why it matters," SAS. https://www.sas.com/pt_pt/insights/big-data/what-is-big-data.html (accessed Jan. 27, 2022).

[8] Trend Micro, "Machine Learning - Definition," Trend Micro. https://www.trendmicro.com/vinfo/us/security/definition/machine-learning (accessed Jan. 27, 2022).

[9] Law Insider, "Industrial Laundry Definition," Law Insider. https://www.lawinsider.com/dictionary/industrial-laundry (accessed Jan. 27, 2022).

[10] A. McGowan, "Fabric finishing and its importance for sustainable textiles," LannyxStudio, 2021. https://www.lannyxstudio.com/blogs/news/fabric-finishing-an-overview (accessed Jan. 27, 2022).

[11] Dabedan, "Dyeing and finishing textiles - Dabedan," Dabedan, 2016. https://www.dabedan.com/en/dyeing-and-finishing-textiles.html (accessed Jan. 27, 2022).

[12] Heddels, "Sanding (also Emersing)," Heddels. https://www.heddels.com/dictionary/sanding-also-emersing/ (accessed Jan. 27, 2022).

[13] Textile Insight, "Sand Blasting," Textile Insight, 2019. https://textileinsight.blogspot.com/2019/11/sand-blasting.html (accessed Jan. 27, 2022).

[14] Coats, "Denim Wash - Thread Recommendations & Washes Process for Jeans," Coats. https://coats.com/en/information-hub/Denim-Wash (accessed Jan. 27, 2022).

[15] Regentexltd, "Washes," Regentexltd. https://regentexltd.com/washes/ (accessed Jan. 27, 2022).

[16] CottonWorks, "Denim Dry Finishing," CottonWorks. https://www.cottonworks.com/en/topics/sourcing-manufacturing/denim/dry-finishing/ (accessed Jan. 27, 2022).

[17] Macy's, "Types of Denim Washes for Men ," Macy's. https://www.macys.com/ce/mens-jeans-guide/types-of-denim-washes-for-men-and-to-acid-wash-jeans (accessed Jan. 27, 2022).

[18] Garmon, "Bleaching Chemicals for Denim, Cotton and Blends," Garmon. https://www.garmonchemicals.com/en/textile-chemicals/garment-denim-finishing/bleaching (accessed Jan. 27, 2022).

[19] Benninger, "Washing Solutions Woven Line," Benninger.

[20] J. Bush, "The IIoT reinvents the PLC," Electronic Specifier, 2017. https://www.electronicspecifier.com/products/iot/the-iiot-reinvents-the-plc (accessed Jan. 27, 2022).

[21] Sewts, "Solutions," Sewts. https://www.sewts.com/solutions/#industrial-laundry (accessed Jan. 27, 2022).

[22] IBM, "What is Computer Vision?," IBM. https://www.ibm.com/topics/computer-vision (accessed Jan. 27, 2022).

[23] M. Isaksson, "Use Case: Fabric Stain Classification," Medium. https://medium.com/nerd-for-tech/use-case-fabric-stain-classification-5c7cf63cf9d2 (accessed Jan. 27, 2022).

[24] P. Pathirana, "FABRIC STAIN DATASET," Kaggle. https://www.kaggle.com/priemshpathirana/fabric-stain-dataset (accessed Jan. 27, 2022).

[25] A. Das Gupta, Z. Sadek, M. H. R. Bhuiyan, M. G. Kibria, T. R. Toha, and S. M. M. Alam, "A Low-Cost IoT Based Automatic Water Quality Monitoring System for Textile Industry," Digit. Libr., pp. 65–76, Dec. 2021, doi: 10.1145/3491371.3491375.

[26] Jeanologia, "Eco-wash solutions for garment finishing," Jeanologia. https://www.jeanologia.com/garment/g2-ozone/ (accessed Jan. 27, 2022).

[27] W. Kenton and A. Drury, "End-to-End Definition," Investopedia, 2020. https://www.investopedia.com/terms/e/end-to-end.asp (accessed Jan. 27, 2022).

[28] Jeanologia, "Digital Wash. Digitalization for the textile industry," Jeanologia. https://www.jeanologia.com/digital-wash/ (accessed Jan. 27, 2022).