Agricultural waste such as pineapple leaves and coconut husks are being transformed into new materials. Harold Koh, founder and CEO of Nextevo, explains more to Jessica Owen.
Pineapple-based textiles are not new. Not only have companies such as Piñatex made this fibre fashionable in recent years but clothing, home furnishings and even wedding garments have been made from pineapple waste across Southeast Asia since the 17th century.  
What is new, however, is how to process pineapple waste at scale. Until now, it's been a challenge to coordinate feedstock from the pineapple producing pockets around the world. But Harold Koh, founder and CEO of Nextevo, has connections to overcome this hurdle.
He says: "Nextevo was founded in June 2019 by me, six months after I stepped down as president, director and CEO at Great Giant Pineapple (the world's single largest pineapple plantation in Indonesia) after nine years.
"With the extensive network that I built in the agricultural industry – I know pineapple farmers and canneries from Southeast Asia, South Africa, Costa Rica and China – I can source in abundance to turn pineapple waste into materials."
The first product that Nextevo has created is called Ready-to-Spin (RTS) fibre, which began trial production in September 2021. Similar to other plant fibres such as cotton, the company says fabrics made from RTS pineapple leaf fibre (PALF) are smooth, soft and breathable. RTS PALF also has a high tensile strength and with its low crystalline structure, it has a high ability to absorb and retain dye.
To produce RTS PALF, Nextevo has a network in Indonesia and a production facility in Thailand – a joint venture with Jinny Tantipipatpong, chairperson of Saico (one of the world's largest pineapple cannery producers). In Thailand, the company works with farmers and farmer groups to collect pineapple leaves, which transport them to the fibre processing location, next to the cannery. In Indonesia, Nextevo works with a local farmer group that collects and processes the pineapple leaves.
Nextevo provides knowledge about processing and machinery enhancement and then purchases the decorticated pineapple leaf fibre from them.
Once the raw material has been collected, the PALF are extracted from the leaves using a decortication process. They undergo a series of washing and drying processes using natural sun-drying techniques instead of using diesel-powered drying, and then undergo a degumming procedure to remove excess organic materials. The clean, degummed fibres are then sized into the RTS fibres and can then be blended with a plethora of other environmentally friendly fibres (eg linen, jute, organic cotton, lyocell or recycled polyester) through a yarn-spinning process.
Koh says: "We currently have many exciting projects with our customers who are leading brands and manufacturers ranging across footwear, apparel, home textiles, upholstery and interior furnishings. In particular, we are working on premium denim jeans apparel, luxury upholstery, bath towels, curtains and rugs."
He adds: "We also work with a special Singapore-based sustainable and ethical fashion boutique called Nost. Nost is different as it uses local Indonesian artisans to create textile material to blend traditional craft to fit the modern trends. This preserve arts while helping local artisan to generate extra income and using Go-Green pineapple sustainable fibres." 
Speaking of sustainability, Koh says Nextevo's fibres are a sustainable choice because the pineapple leaf raw materials do not need extra land, water and other resources to cultivate it. From a life cycle perspective, pineapple leaf waste is a viable alternative to cotton, for example, because the environmental impact concerning carbon emissions, water consumption and freshwater ecotoxicity, is far less for pineapple leaves (13% of the entire pineapple plant) compared to cotton fibres (84% of the entire cotton plant).
And it doesn't stop there. Nextevo is working on life cycle assessments (LCAs) and is further improving the sustainability of its RTS fibre by reducing the chemicals used in the degumming process. Koh says: "Even though the amount of chemicals we use is small amount compared to other fibres, I am still not happy. Currently, we are working with a research organisation to determine the use of enzymes instead and to reduce chemical usage targeted by 30-50%."
The team also plans to expand its sourcing network to increase supply (and mitigate any weather-related hiccups) and plans to improve the efficiency of the production process by upgrading equipment to more automated systems. This has been in the pipeline for some time but Covid-19 delayed this by a year. Koh is now in talks with a few machinery suppliers and hopes to install the new equipment by June 2022. Before that though, the plan is to start scaling production from Q1 2022.
While pineapple waste is at the heart of Nextevo, it's only the beginning of what Koh has in mind for the company. For instance, the company is developing a new product using coconut husk waste called Coir Fiber. This material can be used in cushions, mattresses, erosion control blankets and thermal insulation, for example, and processing of the husk is scheduled to begin in Q2 2022.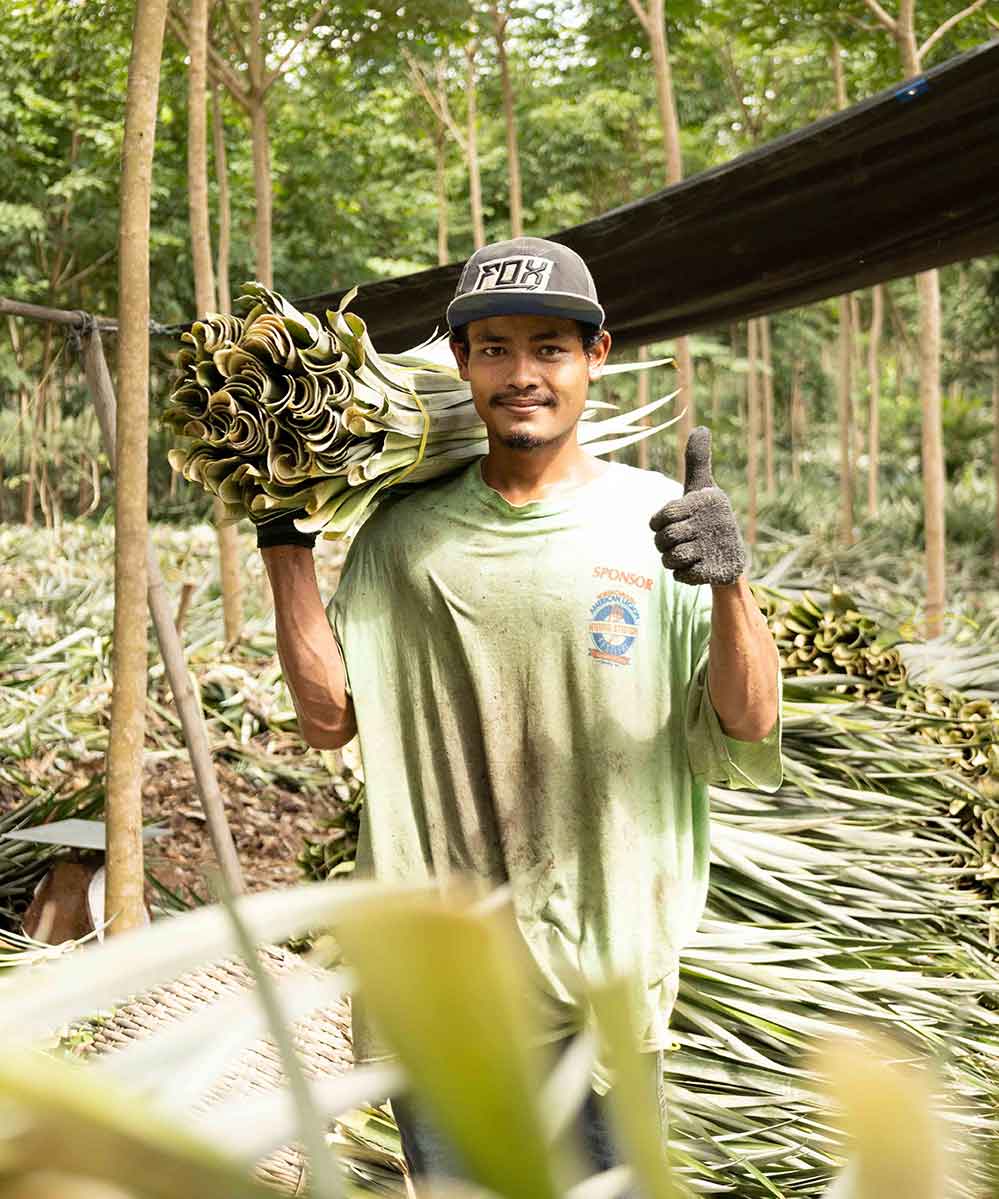 Until now, it's been a challenge to coordinate feedstock from the pineapple producing pockets around the world
Koh says: "We are not limited to just sourcing pineapple leaves and coconut husk waste. While we are expanding into coconut husk processing in 2022, we also have plans to source more types of agricultural waste and natural fibres that can be used for current applications like textiles."
He adds: "Southeast Asia is a huge agricultural region. While it's the world's largest pineapple producing region, it's also a significant area for growing rice, sugarcane, rubber, cassava and palm oil. There is so much opportunity to use this agricultural waste and my vision is to replace 50% of non-cotton fibres with other natural fibres."
Koh also has a vision to bolster social sustainability through Nextevo by 2025. There are more than 5,000 pineapple and coconut farmers in Southeast Asia and Koh plans to improve their lives through the work that Nextevo does.
He concludes: "That's why I've decided not to retire and sit around drinking margaritas. I'm now doing a job that I'm passionate about and that will hopefully make a difference for both people and the environment."
To find out more about Nextevo, visit www.nextevo.one
Have your say. Tweet and follow us @WTiNcomment