Industry 4.0, the Internet of Things and digitalisation are just some of the buzz words that are fuelling innovation in 2019. These concepts have captured the imagination of technology strategists across all sectors of industry and commerce, and textiles is no exception.
Textile 4.0 (previously IoTex) provides readers with an insight into how this innovation is changing the textile value chain, from supply chain management systems to the latest in robotics, monitoring key technical developments across the global economy. There is an existing trend towards higher levels of automation and data exchange in manufacturing. The age of the smart factory is on its way and it will be controlled from the cloud.
Industry 4.0 • Internet of Things • Digitally Enabled Business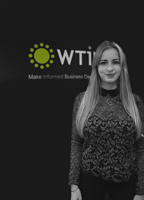 Madelaine Thomas, Editor, Textile 4.0
This year, Textile 4.0 has a new editor, Madelaine Thomas. Having worked on the magazine as Assistant Editor and Digital Editor, Madelaine has taken on the journal from Tansy Fall, who has now left WTiN. Madelaine is also Editor of Digital Textile and International Dyer & Technical Finisher. 
Madelaine can be found Tweeting @MCornforth_WTiN
Upcoming features in 2020
Issue 1
• Utilising digital twin technology in the textile supply chain
• Technologies enabling a smart factory
• Software developments in textile manufacturing
• Advancements in robotics and fabric gripping in textile manufacturing
• Bonus distribution: Innovate Textile & Apparel Asia, INDEX
Issue 2
• Digital innovations enabling a circular economy
• Machine-to-machine communication
• Exploring customisation
• Bonus distribution: Techtextil North America/Texprocess Americas
Issue 3
• Developments in RFID technology
• Integrating PLM
• Opportunities in AR/VR/MR
• Conductive fibres and sensor technology
• 3D body scanning
• New business models in Industry 4.0
• Bonus distribution: ITMA Asia + CITME, Innovate Textile & Apparel Europe
Issue 4
• Cyber security
• Exploring 3D printing in textiles and apparel
• Digital innovations in textile testing 
• Developments in automation in textile manufacturing