Michell & Cia., S.A. is one of the famous names in alpaca, known across the world. Based in Arequipa, Peru, and established in the 1930s, the family firm Michell is more than a processor and spinner of fibre.
The wool of the alpaca is particularly in vogue at the moment as the texture and colours which can be obtained from the undyed fleece are particularly extensive, fitting the modern desire for authentic, natural products.
The nature of alpaca fibre production is well-known, with animals reared in mountainous areas of Peru. Families have raised alpaca for generations and although the way of life has become less nomadic, it remains a powerful bridge between the past and the future.
Today the alpaca trade is enormously organised, with the animals farmed on a scale which can produce the amount of  fibre to fulfil demand, analysed and driven in large part by Michell's developments in animal breeding and husbandry, quality of fibre and design innovation.
Alpaca was seen in several yarn collections at Pitti Filati (June 29 – July 1), combined with other fibres like wool and linen. Michell, a regular exhibitor at the show, was presenting yarns for autumn/ winter 2017/18, and Juan Pepper, the commercial manager, told WTiN that the company, as with many exhibitors, found it to be a very rewarding show, emphasising its value as a meeting place to connect with new and old customers.
"Pitti Filati is a valuable tool for companies who are sited a long way away from the hubs of international fashion," he says. "We are pleased to be able to see the brand names easily here. Otherwise it is hard to get in the door sometimes, but here they come to us. It has been very successful and we have a good relationship with them. We will develop articles for them."
He adds: "For example, if the price points are too high for them, we will build a yarn which suits them. In the same way, our systems of dyeing are equally accommodating. You could say that Michell is a huge industrial boutique – we operate on price, not high volumes, so we can be flexible and inventive."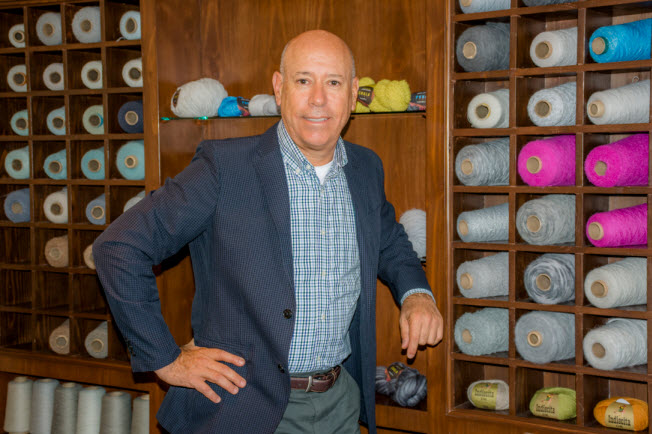 Juan Pepper, the Michell commercial manager
Asked if there is enough alpaca to satisfy demand, Pepper says that production "is fairly stable," noting that the alpaca population in Peru is around 3.5-3.7 million. The animals roam in particular areas, with 5 million kg of greasy alpaca fibre produced each year.
Alpaca has been prized by tailors and high class fashion for over 100 years, in the UK and Europe in particular. Pepper reports that recently Michell has made inroads into different areas, with marked success in home textiles, such as pillow cases, sofa fabrics, plaids and blankets dyed in winter brights and pastels.
"This has opened up new markets which are proving very promising," he says. Michell's examples of alpaca plaids (tartan throws) are soft, colourful and coveted by interior designers and the public.
"Alpaca has become something of a cult product," Pepper adds. "It has formed the star attraction for a growing number of retail shops. The chain Peruvian Connection that started in the US has built a whole business around alpaca and has shops in Europe now."
At Pitti Filati, Michell showcased new blends, including an alpaca/wool/ polyamide mix; fancy bouclés; and caged yarns with roving inside a net in baby alpaca/silk. It also featured hand spun and hand-dyed alpaca yarns for hand knitting.
Fostering and encouraging traditional methods of hand spinning, knitting and weaving is a company aim. Hand knitting in itself is a growth area, reflecting the huge international rise in hand crafts, and has incidentally fuelled the raising of alpaca, which as a soft fibre is very popular for hand knitting.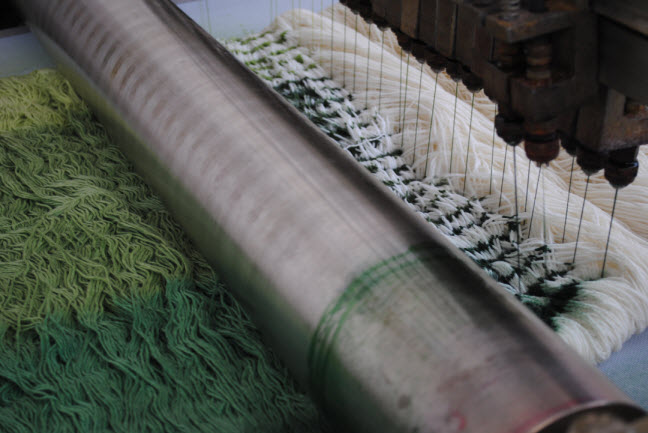 A spinning frame used by Michell to produce bouclé yarn in alpaca and blends
There has been substantial development by Michell of qualities like fine spun and blended alpaca yarns, including thicker alpaca/Merino and ribbon yarns for hand knitters.
Pepper says he is relaxed about the rise in 'hobby alpaca farming' in several places in the world, and says that it is in fact good news. "I see it not as a threat but an opportunity."
He identifies several major challenges ahead, though. "Trading in animal wool is always a tricky business. The loss in value of the euro against the US dollar has hurt the trade. In addition, alpaca wool is involved in free trade agreements, and problems with Russia due to sanctions have undoubtedly had an effect."
He adds: "The alpaca trade in particular has been hit by global warming – it affects third world countries like us. And the purchase of alpaca has been reduced by Italy – previously always a good traditional market – as there is less call for alpaca overcoats, which were classic items. We are responding by making lighter alpaca.
"The good thing is that the industry has done a marvellous job in breeding for a better product. The alpaca groups have developed a whole chain of goods made of alpaca and we invest heavily in machinery."
The crowded tables on the Michell stand at Pitti Filati indicated that the confidence in innovation is fully justified.
RELATED ARTICLES
TRENDING