At the recent Fast Textile exhibition in Warsaw, Poland, it became apparent that although the Polish digital textile printing market is in its infancy, it is booming with enthusiasm.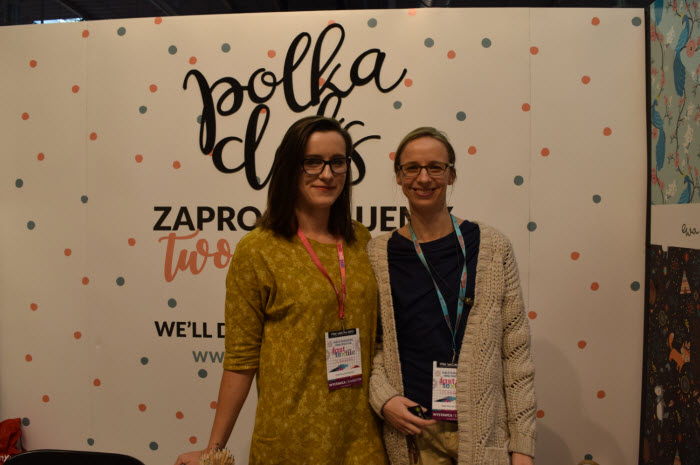 Ewa Brzozowska (left) and Aga Kobylińska (right)
Exhibiting at the event was digital print design house Polka Dots Art Collective. The company, run by Aga Kobylińska and Ewa Brzozowska, began around six months ago: "At that time, we were both quite new to the industry: Aga was working freelance with an American textile design studio for a while; and Ewa had her first fabric designs available for sale in Poland," say Kobylińska and Brzozowska. "As we both had been learning textile design skills through international online courses, we didn't really know people locally. And when we met for the first time, we knew we would want to create something together.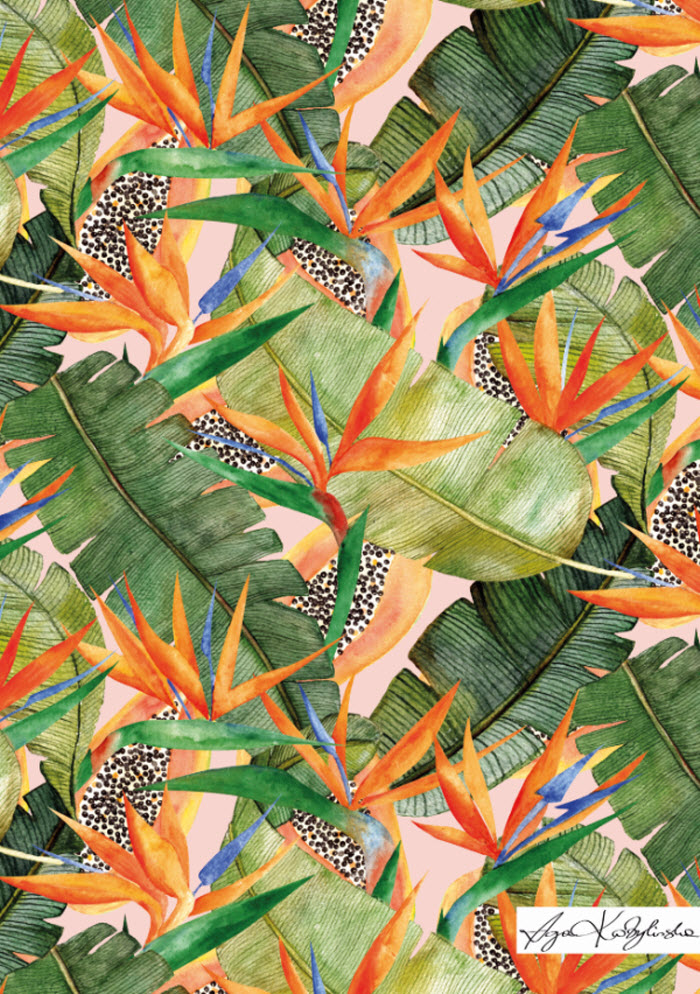 One of Aga Kobylinska's designs
"The occasion appeared with the opportunity to exhibit during the Fast Textile trade show in 2016. We thought our design styles were different but complement each other, and that we could introduce a fresh breeze into the Polish textile market under a common brand that connects our independent businesses. We will develop this brand gradually during the coming months."
The company, which works with Polish printer KUKA, was one of the few digital print designers at the Fast Textile event, showing how new digital printing still is to the Polish textile printing market and how the two designers are at the forefront of change in the industry. Kobylińska and Brzozowska say: "Right now, not many designers in Poland specialise in designing for digital print on textiles, as this technology is only starting to appear. However, we have observed a big interest in this field recently, particularly at Fast Textile."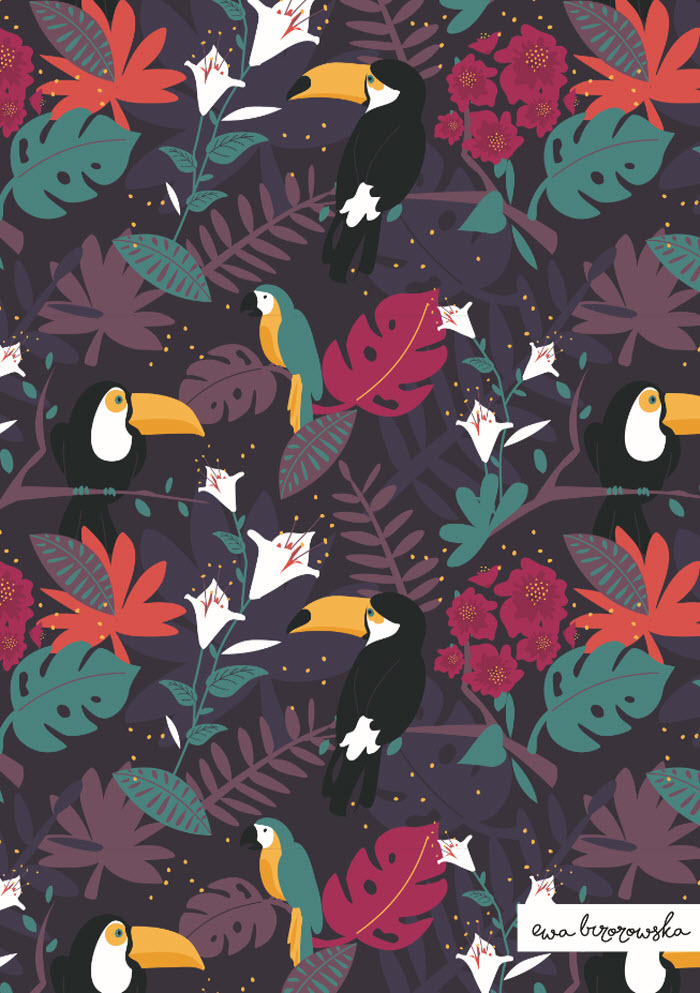 A design by Ewa Brzozowska
The designers therefore expect a lot more digital textile print design companies to be at the event next year, as the interest in digital printing continues to grow very rapidly. Kobylińska and Brzozowska said: "Two years ago, Aga visited the first edition of Fast Textile to find some companies printing small runs on natural-fibre fabrics, but found little possibilities. Soon after, two first Polish print-on-demand companies have emerged and they have been met with big success. It's a matter of one to two years: first relatively small fabric sellers started to introduce their own fabric lines with original full-colour prints and a few months was enough to make this trend common practice."
The print designers added that the digital textile print market, among other reasons, is growing at such a fast pace due to the customisation macro-trend that is currently sweeping many markets, not just the textile market. "There is a big demand for original textiles which goes hand-in-hand with a growing popularity of small, local businesses creating handmade goods, independent fashion brands and the general 'customisation boom'. People look for the fresh and original designs and digital textile printing opens endless possibilities to obtain this goal."
Digital printing, similarly to in the UK and other European nations, has also helped in the "rebirth of the Polish textile market," according to Kobylińska and Brzozowska. "We have strong textile traditions in Poland, particularly in Łódź, which was one of the biggest centres of the textile industry in the world in XIX and XX centuries. It dilapidated in the 90s, but now the sector has been rapidly reborn and digital printing is a big part of this process."
The company designs mostly with digital printing in mind, but some of its clients also use screen or roll printing as these technologies are more cost effective in large quantities, said Kobylińska and Brzozowska. However, they added, "In these cases, we need to remember about the technical restrictions that come with screen or roll to roll printing. For us as designers, digital printing onto fabrics removes the traditional restrictions related to other technologies and makes the process of preparation for printing much easier and faster. We don't have to care about the number of colours and colour separations.
This opens new possibilities as far as creative mediums are concerned. For example, Aga, who specialises in watercolour designs, can implement this medium in her fabric designs with great results and Ewa, who loves to create cute patterns, can draw highly detailed characters without any limitations. Apart from these technical aspects, digital printing gives us a great business development potential: even very young and small companies can introduce their own fabric lines or products made from fabrics printed especially for them, so the number of potential clients of our services constantly grows." Additionally, the designers say that designing for digital print gives them many new possibilities and that the file preparation is much easier. As well as this, the quick results of digital printing also mean that, particularly in smaller runs, digital printing is much more cost effective and the turnaround times are much faster.
Kobylińska and Brzozowska added that digital textile printing opens up the design process: "With digital printing, there is a possibility to reproduce all the nuances of the design just as we see it on the computer screen. Designers may use effects that give, for example, oil painting or watercolours, they can use photographs, textures, layered efffects and accurate details in their designs. Another great thing is that we can order fabrics with our designs in very small quantities just to show them to clients physically or to make pictures of samples. For fashion designers, the possibility of printing engineered prints (designed to fit the pattern pieces of a garment exactly) is also spectacular – and all that on to natural-fibre fabrics."
The designs created by the company are predominantly printed on cotton and jersey fabrics, but the designers see big potential for linen and upholstery fabrics in the digital print design market, which was demonstrated earlier this month at Heimtextil in Frankfurt.
"We love this technology for all the reasons discussed above," said Kobylińska and Brzozowska. "We also believe that the fact that we are here today resulted from the digital printing boom in the USA, and particularly the Spoonflower phenomena. We both learned the required skills needed for designing for digital through doing international online courses – which probably wouldn't appear otherwise, so this technology has a very big influence on the textile industry, making it less hermetic and more inspiring.
"Of course, digital printing on fabrics also has its limitations, such as the loss of tactile qualities or lack of possibility to add special colours or layers (including neon or gold) to the fabric. But taking into consideration that some problems we were having a few months ago don't really exist any longer, due to the fast, technological development by the machinery manufacturers, we suppose that very soon the new solutions will appear in response to these issues as well as to those that we don't even know exist yet."
Have your say. Tweet and follow us @MCornforth_WTiN and @WTiNcomment