Twine Solutions, an Israeli technology start-up company, has created digital thread dyeing and colour-matching algorithm systems that, according to the company, could revolutionise not only the way the industry embroiders, but also the way it sews, knits and weaves different thread colours, as well as different added value applications.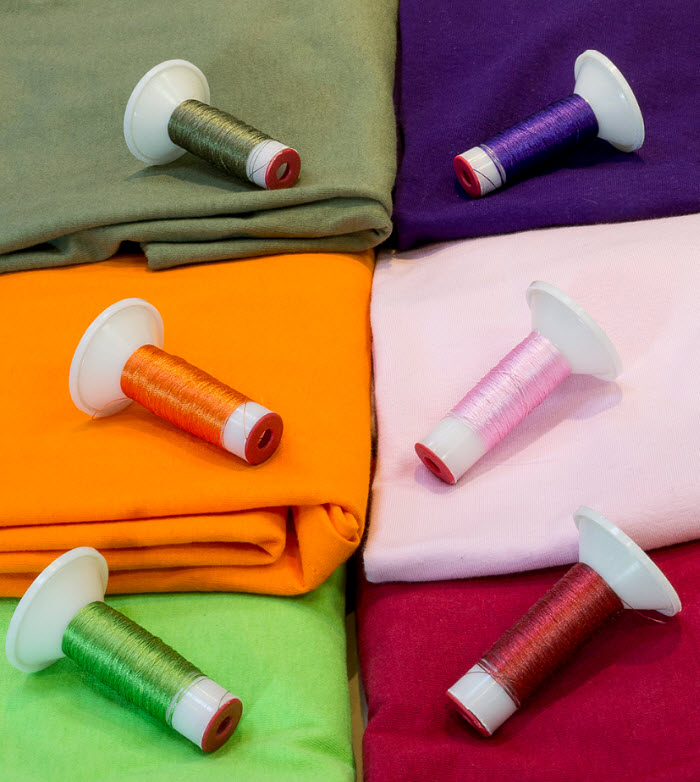 Twine's Digital Selective Treatment (DST) has digital dye to match capabilities
Here, Yariv Bustan, Twine Solutions' vice president of product and marketing, discusses the new technology, its possibilities and the company's plans for the future.
Founded less than two years ago, by twin brothers Alon Moshe, CEO, and Erez Moshe, Twine develops proprietary digital selective thread dyeing systems and digital dye to match colour algorithms (pictured above) for the thread, fabric and garment industries.
"The name of the company was born and aptly named from the term 'twin' and 'twine', twine being synonymous with yarn," says Bustan, who explains both founders come from digital printing backgrounds in various executive management and R&D roles as do most of the company members. "Our DNA is digital printing," he adds.
The company was born from a lack of digital print on-demand technology in the thread dyeing industry. Bustan says: "Understanding the entire supply and production chains using thread, it is surprising not to see more of digital print on-demand to thread to industries that truly have not radically changed in decades. This was an opportunity that led to Twine's beginnings."
Technology
According to Twine, its Digital Selective Treatment (DST) technology is a system that selectively and digitally dyes and treats a single (white) off-the-shelf thread in a continuous, on-demand and eco-friendly manner, through a waterless process, where the thread is ready for immediate use.
The machine itself is as small as an office printer, according to Twine, and "prints with precise colours defined by the user or automatically through Twine's TCC (True Color Capture) proprietary colour-matching algorithms and mobile application."
The company adds that the DST technology eliminates the long, cumbersome and messy conventional bulk dyeing process, and replaces it with direct and fast digital in-house systems, which, as well as been much more cost and time-efficient, is also much more sustainable.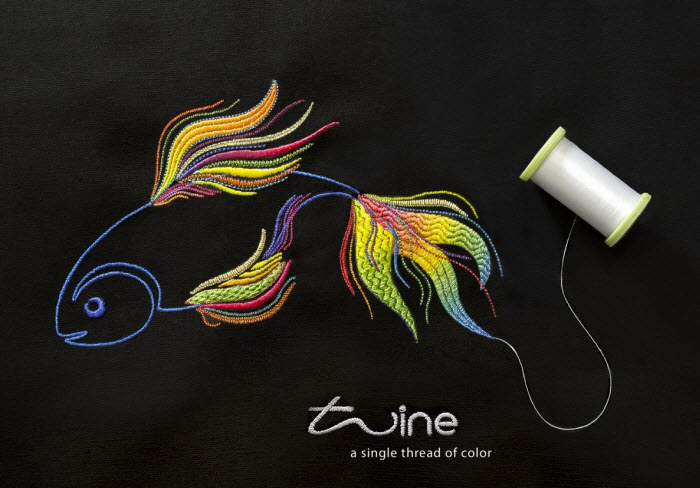 "The system works with off-the-shelf threads and yarns at speeds that present economic viability for various thread required applications," says the company. Bustan adds: "Our current focus is on polyester fibres, and other thread types will follow." This is because, as a relatively young and small company, Bustan feels Twine needs to be focused on polyester initially, since it is the predominate thread staple, so it is important for the company to perfect the use of that thread, before moving on to others.
After polyester, the company will move on to developing the technology for nylon treads. "We've already started testing this thread," says Bustan. "It's not our current focus, but it is in the roadmap of materials we will address."
The technology uses Twine's own proprietary ink. He continues: "Twine's foundations lean heavily with the digital printing industry, where Israel is the world's known centre, and with its seasoned R&D team. Twine has developed its proprietary ink formulae to accompany its proprietary system and processes."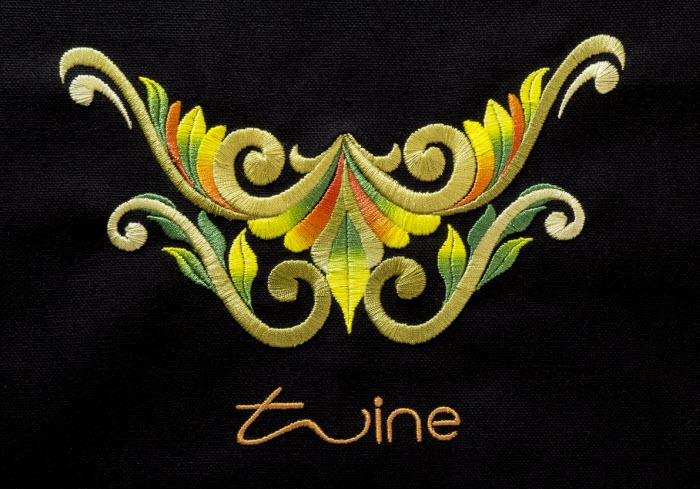 Importantly, the polyester thread does not require any pre or post treatment. "Our customers can purchase the man-made thread from different suppliers, and you simply load it into our system and there you have it, ready for use within a few seconds," adds Bustan. "Once the thread comes out from the machine it is ready for consumer use, whether it is sewing, embroidery or knitting."
He explains that the thread, once it has been dyed, has "absolutely fantastic" washing characteristics. Bustan says: "The thread characteristics are like what you would expect from a conventional dyed thread – the thread produced has also undergone testing according to the OekoTek Standard 100 process.
"We are doing tests all the time, not just on the wash but light-fastness and rub-fastness etc," he adds. "We are also doing internal and third-party tests. The grade is similar to what the industry expects – it is a grade greater than 4/5."
Benefits
There are many benefits to on-demand inkjet thread dyeing, and it would be accurate to suggest that this technology has the capacity to revolutionise not just the embroidery process, but also the weaving, sewing and knitting industries. Twine that this will be the case. Bustan says: "There are many benefits one can get from Twine's technology: it saves storage and stock management cost; enables endless colour availability right at your fingertips, and eliminates waste and dead stock since you print exactly what you need; and due to simple user control, enables and presents unique capabilities such as gradient colours.
"The embroidery process is indeed one of our target segments, however Twine's technology enables us to operate in various segments such as sewing, weaving and knitting since it applies there as well, as it certainly changes both the production and logistics," says Bustan. "Targeting different segments in the textile industry makes us unique, and one of the reasons we are using off-the-shelf thread is so we are not limiting ourselves or our customers to a specific application. Users will not need to store coloured threads, and all colours are available immediately. Imagine this is a 'virtual' thread inventory in the cloud, similar to 'downloading' any length and any colour within seconds. Thus, saving time, logistics and stock management cost, enabling shorter time to market, and much more."
The data for the company's "virtual" thread inventory is stored within the system itself, and also within repositories in the cloud, meaning the user can get any colour thread they like, within seconds. Bustan adds: "The user could either simply request a Pantone colour to "print". We even have colour algorithms within mobile applications to capture colour and convert to produce the precise colour to print. As an example, imagine the ability to capture the colour of any garment, shoe and bedding etc, and simply print the thread of the colour of the desired product instantly – this is what we aptly call Digital Dye to Match."
Also known as Twine's True Color Capture (TCC), it works through cloud-based servers to analyse the image, in order to dye precise colour directly and immediately into the thread using Twine's system within seconds, with no iterations. Whereas conventional dye-to-match processes may take days with many iterations, says Twine.
In terms of the amount of time it takes the technology to start printing, Bustan explains it depends on whether the machine is in "sleep mode" or whether it is off: "If the machine is in sleep mode, it will take several seconds, and if it was off it may take up to several minutes to warm up, and then you can print basically immediately," he says. "If the machine is on, just click print and it will start immediately.
"The image-analysis technology takes a few seconds to analyse the true colour, and once it has found the true colour you click and print and it will immediately start printing or colouring if the machine is on. The thread is ready for use, for sewing or knitting or for embroidery within seconds."
Future applications
The company plans to develop its Digital Selected Treatment in a number of ways. As well as adding additional threads and applications as discussed, Twine sees the system becoming a fully integrated online system towards specific thread required machineries such as weaving, knitting and sewing systems, this from the perspectives of colour direct to fabric. "The DST is in essence application agnostic, in which it would enable us to address future applications such as medical, wearables, technical textiles and much more," says Bustan. "The digital colouring is just our first part of addressing Industry 4.0."
The company is therefore planning to apply different applications onto the thread in future. Bustan says: "Right now we are focusing on colour, so this is what we are applying to the thread. We are also looking into applying different materials such as antiseptic onto the thread. So, you can imagine that during the weaving of materials, of clothes, some selective areas can be applied with antiseptic materials. With a bandage, for example, you can weave the bandages with antiseptic in only a selected area. The material can also have other properties such as being hydrophobic, reflective and conductive etc. These are just some of the other segments that we are considering."
The company hopes to have a product released in this area before the end of 2017. Meanwhile, Twine is also evaluating a few potential joint ventures with leading players in the textile market to add the machine to digital manufacturing lines.
However, Twine is not the only company to create an on-demand inkjet thread dyeing technology. Swedish technology company Coloreel has also developed similar technology that colours thread through an ink-jet process on-demand. Named Embroline, the technology units work with both new and existing embroidery machines and uses a unique thread and ink approved by Coloreel to secure quality and performance. Bustan says: "It is good to see other players in the market – it shows additional evidence for market needs."
Despite Coloreel's affirmation of the readiness of the industry for this technology, Bustan is already confident of the market needs for this kind of system. He adds: "Twine's technology is addressing the needs of the textile industry, and the thread industry in particular. Threads are around us in almost everything that we interact with in our daily lives; our clothing, shoes, bedding, car seat, upholstery, to name but a few. As a result, the product will address and meet the needs of the global market."
Have your say. Tweet and follow us @MCornforth_WTiN and @WTiNcomment
RELATED ARTICLES
TRENDING