The Industrial Fabrics Association International (IFAI) began almost a century ago as a group of manufacturers focused on canvas and tent structures. With headquarters based in Minneapolis, the organisation today is much broader in its reach, now including geosynthetics, medical and digital textiles. Its annual expo is held in a different North American city each year, with Expo2017 held in New Orleans. Locating the trade show in cities across the country brings a different emphasis and visitors to each show. Smart materials, as well as wearable and digital technologies were a strong focus this year both on the trade show and in the education programming for the Advanced Textiles Conference.

Jeff Rasmussen, director of market research, IFAI, gave what has become his annual state of the industry speech. This year he focused exclusively on current developments in the smart and interactive textiles markets. With an annual growth rate of 18% per annum, Rasmussen places the 2017 value of the smart fabrics market as US$2.6bn. While sports and fitness applications feature strongly in newspaper headlines, they account for just 17% of sales by market segment, with transportation the largest sector accounting for 27%. Military and industrial (including workwear) are closely placed in second place with 21% and 20% respectively.
Communication is showing itself to be key to consumer acceptance of smart textiles and wearable technology, but with an important caveat that they should be comfortable to wear to the point where the wearer is almost unaware of them. This was the focus, too, of many of the presentations, and was also evident on exhibitor booths. Dr Jesse Jut of North Carolina State University (NCSU) made the point that, in textiles, comfort comes first, while in technology functionality is dominant.
Wearable technology brings these two opposites together, and in doing so has to reconcile very different approaches. Supreme Corporation exhibited a number of conductive fibres and yarns under its VOLT Smart Yarns brand. Fibre wrapped around the conductive thread adds additional haptic and stretch qualities, as well as making it easier to incorporate into and onto fabric. This includes a heated yarn using a wool fibre wrapped around the conductive thread to add both elasticity and greater comfort close to the body.
Eduardo Siman, IT director at Intradeco Apparel and angel investor/board of advisors at Virtualitics, sees that we now have "two industries that are maturing at the same time, e-textiles and virtual reality". He sees the possibility for human data measurement to be transferred between VR suits or between the suit and a robot. In the future he sees VR garments incorporated into ski suits teaching the novice skier how to ski. It could monitor how much compression a skier is experiencing in a particular muscle and adapt to help prevent injury.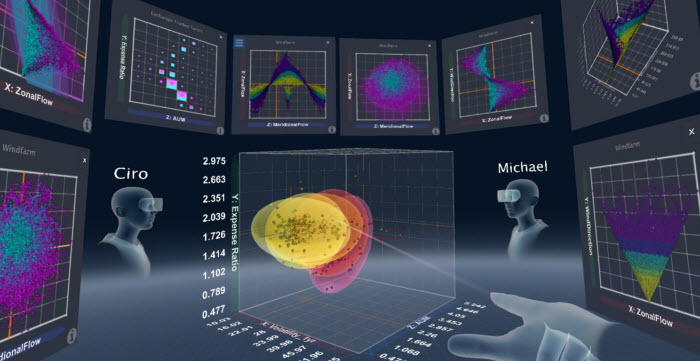 Virtualitics have built a unique platform that merges Artificial Intelligence (AI), Big Data and Virtual/Augmented Reality. Just as the textile world is evolving,
so too are these disciplines, offering greater opportunity for convergence. 
Photo credit: Virtualitics
Concepts such as this predict a move away from traditional approaches to virtual reality garments, and, as Siman says: "Virtual reality is going beyond gaming; you need to create a brand that users will be comfortable with, and you need fashion designers involved."
Discussion around photovoltaic yarns as a viable power source for wearable technology indicated that there is a more realistic vision of its capability is needed. Christopher D Rahn of the Penn State University stresses the need to take a more holistic view of the power source with the device that the user wants energy for. A standard Quartz watch, for instance, uses a fraction of the power needed for an Apple watch. Alternative energy sources proposed include vibration, human motion and graphene.
There were many enthusiastic about the future possibilities of graphene, as IEEE's William E Miller posed the question: "Will graphene disrupt the textile industry?" Made of two-dimensional carbon, the manufacturing process is slowly building in scale, so Miller anticipates new products coming to the market shortly. In the smart textiles and wearable technology sector, graphene could potentially allow a battery to recharge in seconds and incorporate sensors and antenna. Ultralight fabrics could also be created that are many hundreds of times stronger than steel.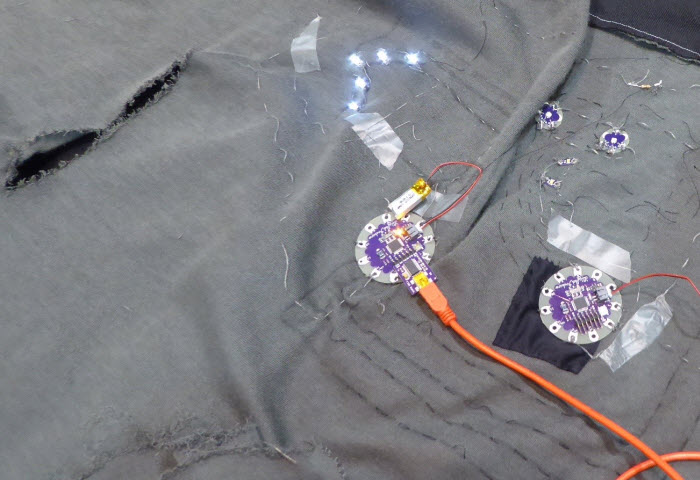 One of the two Hackathon team at the IFAI Expo2017 developed a cycling jacket that illuminated to point arrows left or right on the back by touching the appropriate sleeve.
The intention being to improve cyclists' visibility and safety.
Photo: Marie O'Mahony
A hackathon revolved around an e-textile workshop, with students formed into two groups – one working on an interactive toy for autistic children and the other on a safety illuminated cyclist vest. The hands-on workshop was supported by exhibitors such as Macdermid Enthone, Elkem and Supreme Corporation who gave expertise and materials. A series of talks in the discussion areas was attended by those participating in the hackathon and a wider audience with speakers that included Eva Osborne of Significant Difference and Ben Cooper of IoClothes.
Digital advances are impacting fibre, fabric and garment design across all scales and prices. Many are offering a new flexibility in production that can reduce the number of processes, set-up or time taken, all of which are much in demand by large and small manufacturers alike. Dino-lite is a small digital microscope intended for testing, documenting or inspection. It is the size of a small flashlight and can be hand-held or placed securely in a small table-top stand with images relayed direct to the user's computer. Its magnification range goes from 10x to 900x with a maximum resolution of 2,592 x 1,944.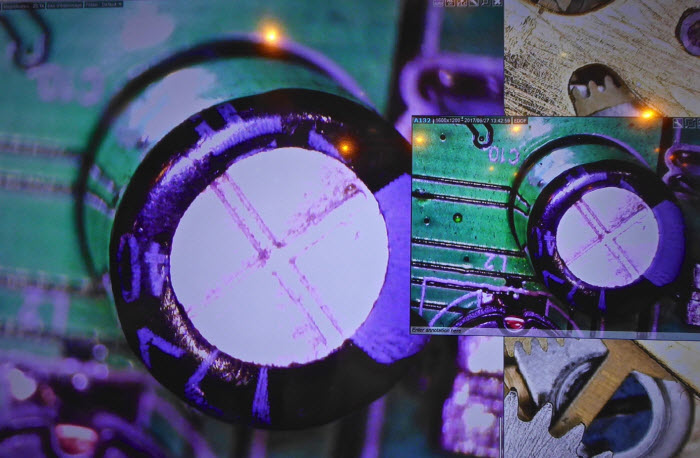 Dino-Lite offers detailed photographs taken at a microscopic level with good depth of field. Where a 3D structure is photographed, software allows for multiple images to be taken and sandwiched to create a sharp composite photograph. This image shows a circuit board with loss of detail in the main image, the insert shows a composite image with sharpness restored
Photo credit: Marie O'Mahony
Autometrix' CadShot Mobile offers a fast and efficient way to digitise patters untethered to the desk. The technology is an app that offers users with a smartphone, downloaded with PatternSmith 8 to take a photograph of their physical pattern and create a digital pattern in minutes. Placing the pattern flat on CadShot Board the photograph is taken ensuring that all four "targets" are within the window. The photo can be taken from an angle and the software will process the image to the correct dimensions. The pattern can then be laid on the fabric manually or using Autometrix' Automatic Nesting Solutions that provides more than 80% material efficiency.
Digital technologies are allowing the textile industry to develop niche products and approaches, ranging from e-textiles to manufacturing processes. Partnerships at the development stage are key, and notable at this year's IFAI Expo2017 were the number of first-time visitors new to smart textiles and wearable technology. As stakeholders evolve, so does the industry.
Marie O'Mahony, writes and consults for the textile and apparel industry. She is the author of several books on advanced and smart textiles published by Thames and Hudson.
Have your say. Tweet and follow us @WTiNcomment