Today (16 October) marks the start of TITAS (Taipei Innovative Textile Application Show), the annual functional fabrics trade fair, which makes its anticipated return to Taiwan's capital city of Taipei.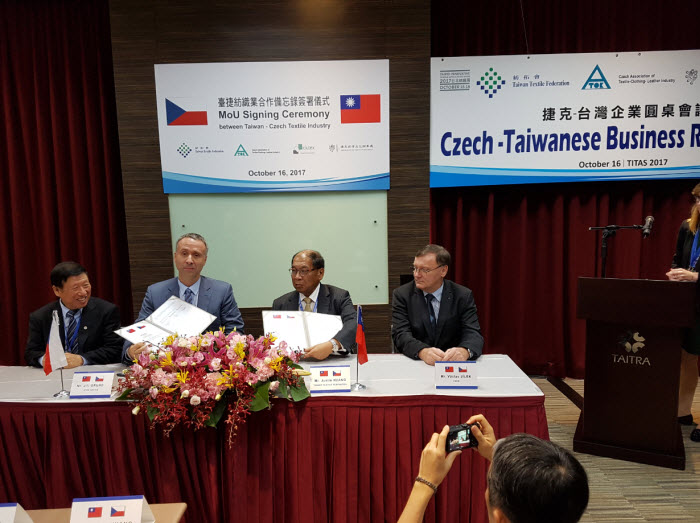 Taiwanese and Czech textile representatives sign the MoU at the business roundtable
Held over three days, this year's exhibition began with a Czech-Taiwanese business roundtable to strengthen collaboration. The roundtable was set up through the efforts of TITAS organisers Taiwan Textile Federation (TTF), Czech Economic and Cultural Office Taipei (CECO), and Czech Cluster of Technical Textiles (CLUTEX).
This is the Czech Republic's first ever participation in TITAS, which it also marked by signing an Addendum Agreement to the Memorandum of Understanding (MoU), effective in 2015. Nearly 40 companies attended the business roundtable, and many showed a strong interest in start-up business relationships, says TTF.
Czech appeal
The Czech textile and clothing industry is said to be successful and important to Czech's economy, especially since the year 2010. The total sales value of the Czech textile and clothing industry for companies with more than 20 employees reached US$1.31bn in the first half of 2017, and labour productivity is increasing.
According to TTF, in the past, the value of Czech textile and clothing imports was higher than exports due to the significant imports of clothing, which were then re-exported to other European countries, resulting in a negative trade balance. However, the gap between exports and imports continues to decline.
With Vaclav Jilek, CEO of CECO, and Alex Lo, executive supervisor of TTF and chairman of Taiwan Technical Textile Association, as witnesses, Justin Huang, president of TTF, along with Justin Grund, president of ATOK, and CLUTEX, signed the agreement to build the co-operation platform for the industries of both sides to promote trade and investment, business co-operation, IP protection, information sharing and professional talent.
During the business roundtable, Martin Vandas, CEO of BTTO, shared his experience about cooperating with Taiwanese companies and his hopes for BTTO to become the second-largest glass fibre supplier in Europe.
A total of six Czech textile and clothing companies will exhibit in a joint stand at TITAS 2017, showcasing home textiles, fashion accessories and textiles, and technical textiles specialities.
For more information, visit www.titas.tw/2017/eng/

Have your say. Tweet and follow us @FHaran_WTiN and @WTiNcomment