Graphene textiles boost sports performance as research into new super material pushes ahead, reports Sarah Gibbons, in London.
With boasts of being the strongest, thinnest, most flexible material that is also super-lightweight and an excellent thermal and electronic conductor, the 'wonder material' graphene is finding its properties a game changer in the sporting arena – including at February 2018's Winter Olympics in PyeongChang, South Korea.
The material, which is carbon sliced into tranches invisible to the human eye, thinner than a human hair and 200 times tougher than steel, comprises a single layer of carbon items. Its wide range of properties have made it one of the world's most versatile materials, and within the sports gear sector alone, its uses are widespread and increasing rapidly, providing extra comfort and competitiveness, including split-second improvements to athletes' performances, and in one instance, enough difference to win an Olympic medal.
Versarien, an advanced materials engineering group, based in Cheltenham, UK, partnered with Bromley Technologies Ltd, from Rotherham, UK, to create a bronze medal winning skeleton sled for British Olympian Dominic Parsons.
These X22 prototype sleds were manufactured by former skeleton World Champion and four-time Olympian Dr Kristan Bromley using Versarien's graphene-enhanced composite material, which includes integrated woven carbon fibre. The sled 'pan' (base-plate / underside fairing) was aerodynamically designed to specifically suit Parsons' size and riding style, says Versarien, adding: "The graphene-enhanced composite gave desirable structural properties while delivering minimal aerodynamic drag."
Bromley, CEO and innovation director of Bromley, says: "Graphene-enhanced composites enable the structural properties of sports products to be pushed to new levels. In particular, they allow increased strength-to-weight ratio and tougher impact properties to be achieved over conventional advanced composite materials. In elite sports where small margins often define winning performances, these enhancements can make the difference between winning and losing."
"As the graphene industry evolves, it will develop more understanding of the limitations and how to enhance materials," adds Bromley. "We can take those experiences and apply them to other sports markets looking for similar attributes – stronger, lighter, thinner and tougher."
Versarien CEO Neill Ricketts says: "Success in elite sports provides an immediate endorsement of using our graphene technology," and adds there was 'considerable interest' from other sports in the graphene technology.
Smart performance
A company subsidiary, Cambridge Graphene, has entered into an agreement with an unnamed Asian textiles manufacturer to supply its graphene ink for the creation of smart sports apparel which will enable wearers to monitor performance, health issues such as heart rate, and optimum movements.
Ricketts says: "Graphene has enormous potential to enhance the properties of fabrics and can also be incorporated within them to enable 'smart clothing' to be developed."
With its development of increasing applications for enhancing carbon fibre composites with graphene, Versarien is planning to establish a £55m (US€70m) graphene manufacturing centre in the China-UK Jinan Graphene Industrial Park, in the Jinan Innovation Zone in Shandong Province, China, to cater for the growing Asian market.
Meanwhile, Directa Plus, an Italian producer and supplier of graphene-based products for use in consumer and industrial markets, has launched two new textile collections containing the company's Graphene Plus (G+) material. It is being used in ski jackets and trousers developed by Monza, Italy-based Colmar, the high-end sports and activewear company, and Eurojersey, a Caronno Pertusella, Lombardy, Italy, producer of high-quality warp-knit technical fabrics, under its Sensitive Fabrics brand.
Eurojersey's Sensitive Fabrics range contains Graphene Plus material
Colmar has 31 graphene-enhanced garments in its Ski Winter 2018/19 collection, including ski jackets and trousers – an example being a replica of the men's jackets worn as part of the official uniform of the French national alpine skiing team.
Directa Plus says it is receiving increasing interest in G+ from the textiles industry due to its "ability to sustainably produce a highly-performance fabric that is independently certified as non-toxic, non-cytotoxic and hypoallergenic for human skin."
The inclusion of G+ in textiles, it claims, provides "a technologically advanced fabric with unique thermal features: allowing a homogeneous distribution of the heat produced by the human body in cold weather and a heat dispersion effect in hot weather. G+ also provides the fabric with a bacteriostatic effect that enhances hygiene and anti-odour features, which is particularly relevant for sportswear and garments that are in contact with the body."
Giulio Cesareo, chief executive officer of Directa Plus, says: "Graphene is revolutionising the sports textiles industry, in large part due to the material's unique thermal qualities. Graphene enables the fabric to act as a filter between the body and the external environment, thereby ensuring the ideal temperature for the user. This means dispersing the heat in warm temperatures and preserving it and distributing it evenly from 'hot spots' in cold temperatures."
He says improved comfort supported superior sporting performance and pointed to the all-natural, chemical-free hypoallergenic qualities of graphene products, adding sustainability to the material's list of attributes. "This joint focus on enhanced performance and sustainability is attracting significant interest from key players in the sportswear sector as we continue to push the boundaries of this super material," he adds.
G+ comprises pristine graphene nanoplatelets and its inclusion in fabric promotes temperature regulation for the wearer.
Traditionally, textile development focuses on through-plane properties of fabric that regulate the relationship between the human body and the environment, such as textile breathability or impermeability, a Directa Plus spokesman says. But the company has developed a G+ planar thermal circuit that distributes heat generated by the body to prevent the creation of hotspots and dissipate it when needed, and "thanks to the bi-dimensional and planar nature of graphene, the in-plane properties are allowed to optimise fabric performance due to the interaction between the fabric and the human body." That means it is possible to adjust the body temperature without using an external source of energy, such as batteries, without affecting breathability and impermeability, he adds.
Directa Plus designs and certifies a bespoke thermal circuit based on client requirements then sells printing paste to the client's printer to print the G+ thermal circuit onto the garments. The company has just been awarded a US patent for its graphene flame-retardant composition which it claims will be "very relevant for sportswear, such as motorsports".
Colmar has also attracted the attention of the European Commission, which released a brief report on its work, saying: "Graphene-treated fabrics have enhanced the quality, properties and technical characteristics of Colmar's sportswear. The innovation has not significantly increased production costs, it provides added value for customers and is helping to attract new customers from around the world."

A Colmar graphene-enhanced ski jacket
Athlete support
Meanwhile, another Italy-based company Deewear, which produces sports gear, also utilises Graphene+ technology in its products. According to the company, the product conducts the heat from warmer parts of the body to colder areas via a circuit, enabling the body to preserve the energy it normally requires in order to regulate temperature and increase performance instead.
Its second-skin T-shirts and tights promote hygiene and their ultra-thin, lightweight fabric helps muscle performance to ensure correct posture during training sessions to avoid injury, says the company.
Elsewhere, Osaka, Japan-based sportswear company Descente Ltd is releasing the world's first athletic shoes early this year (2018) using graphene. It will sell the planned heavy-duty sports shoes worldwide through its British subsidiary, inov-8, under its G-Series brand, with athletes able to use them outdoors or in gyms.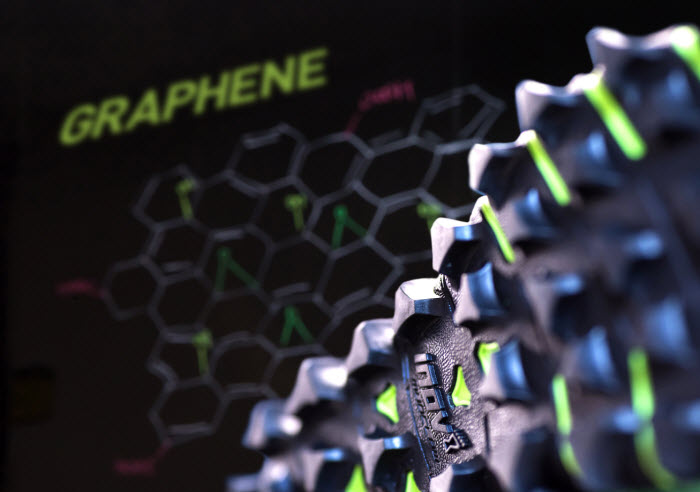 Descente Ltd is releasing the world's first athletic shoes using graphene this year
Graphene has been mixed with rubber to create a sole that is 50% stronger and more durable than ordinary training shoes, according to researchers at the UK's University of Manchester, who worked on the development. Laboratory tests at its National Graphene Institute have shown that the graphene-integrated rubber outsoles of these shoes are stronger, achieve more stretch, and are more resistant to wear, says the company.
Michael Price, inov-8 product and marketing director, says: "Off-road runners and fitness athletes live at the sporting extreme and need the stickiest outsole grip possible to optimise their performance, be that when running on wet trails or working out in sweaty gyms."
Dr Aravind Vijayaraghavan, reader in Nanomaterials at the University of Manchester, says: "The graphene-enhanced rubber can flex and grip to all surfaces more effectively, without wearing down quickly, providing reliably strong, long-lasting grip."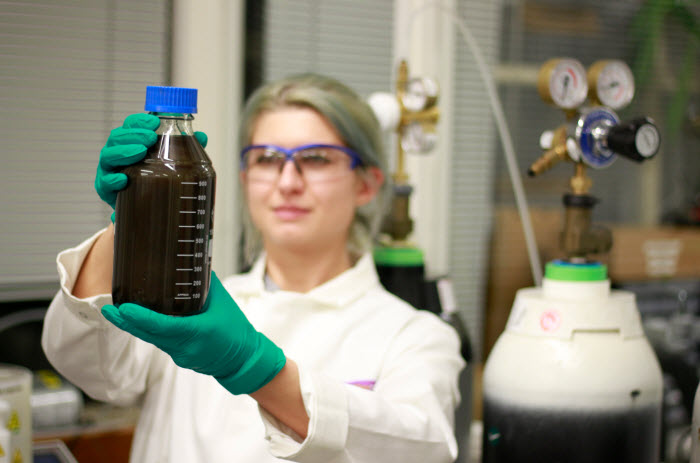 Dr Maria Iliut from the University of Manchester with G-Series graphene
Meanwhile, knowledge exchange fellow Dr Nazmul Karim, from the same institute, predicted that textile apparel-integrated graphene sensors would be widely available within the next two years.
The sensors will enable wearers (or sports coaches) to monitor heart rates or sleep patterns.
Further down the line, he indicates more advanced research would lead to graphene-based sensors assessing muscle movement, which could help sports managers determine the level of recovery of a player following injury.
He says: "We're looking at graphene-based dispersion using graphene oxide. We functionalise it to bond with textile fibres to make it flexible and comfortable.
"We are also looking at putting it into dyes to make graphene inks to coat fibres or yarns. Within five to 10 years we could have data on sports people from the sensors powered by flexible batteries using graphene which are in turn powered by solar energy."
Karim says work was ongoing to find effective eco-friendly ways of weatherproofing outerwear such as lightweight sports jackets, using graphene. His team is working on the development of a graphene-based water repellent: "Initially it might enhance the properties of other elements rather than being entirely made from graphene," he notes. "It might not be the complete solution yet, but it might be in the future."
Karim describes the international textile industry as "well-established and doesn't like to change existing processes," so, in order to commercialise his research, he is using existing coating processes to introduce graphene into textiles.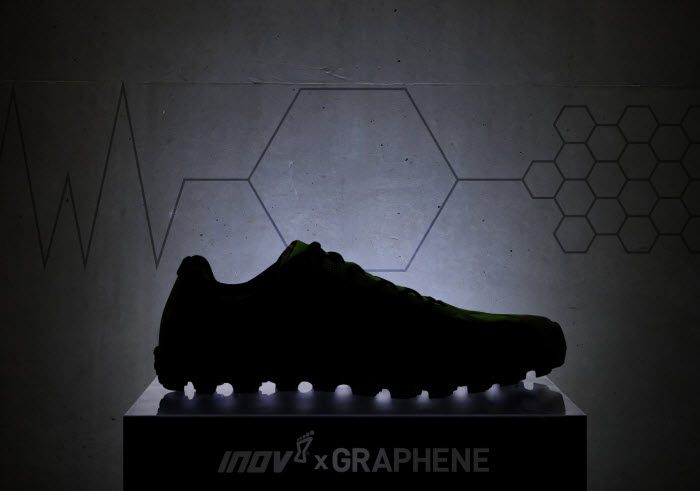 The G-Series brand will be sold through Descente's British subsidiary inov-8
The process has been cumbersome, thus far, but his team has identified how to scale up production: "By coating fibres with graphene oxide we can produce huge amounts of conductive wearable e-textiles – 150 metres in a minute.
"Our simple and cost-effective way of producing multifunctional graphene textiles could easily be scaled up for many real-life applications, such as sportswear, military gear, and medical clothing," says Karim.
Advanced properties
Meanwhile, in China, Shanghai Kyorene New Material Technology Co Ltd has combined graphene with polymers under room temperature to add properties to textiles, such as antibacterial, anti-static and heat preservation.
Qu Jing, vice director of China National Textile and Apparel Council, says that the success of graphene fibre development could help enhance the country's profile in the international technical textile market. The new graphene fibre has been used to produce clothes, sportswear and underwear products, he told a Shanghai meeting with China's ministry of science and technology last June (2018).
Zina Cinker, executive director of the National Graphene Association, based in Mississippi, US, predicts "a lot more commercial activity in the commercial sector very soon".
She continues: "With graphene, there are so many different properties in one package – thinnest and strongest material ever known, best electro and thermal conductivity. You can soak fibres in it to increase electrical conductivity or thermal conductivity and enhance a fibre's properties. And as it's hypoallergenic, you can coat fibres which are going to be next to the skin."
She suggests an increase in the use of sensors embedded in shirts and in contact with the skin as most conductive inks are currently made from metals; those with graphene work better reacting directly with the body and not causing any allergies.
"The concept of graphene sensors embedded in textiles is a marriage I see happening very quickly," she says.
"The sports industry is more primed to develop the use of graphene than some others, eg automotive, because innovation happens a lot faster than in other industries. They're in touch with the consumer."
And graphene research centres are mushrooming. Australia's First Graphene Ltd opened a Commercial Graphene Facility (CGF) at Henderson, Western Australia, last November. Local MP Josh Wilson says: "It really is no exaggeration to say that graphene will likely be one of the defining substances and technologies of the 21st century. The enormous potential of graphene will be explored and enabled through a production facility here."
Also, a Beijing Graphene Industry Innovation Centre was opened in Beijing, China, last April, which state news agency Xinhua says would use "innovative resources to research and develop cutting-edge new materials [and] speed up the transformation of scientific research achievements and enhance the graphene industry." A 2015 Chinese government pan has been targeting the development of a comprehensive graphene industry system by 2020.
Have your say. Tweet and follow us @FHaran_WTiN and @WTiNcomment