The emerging fashion concept was the focus of a conference organised by the Association of Suppliers to the British Clothing Industry (ASBCI) in Nottingham, UK, on 14 November. Fiona Haran was there to find out more.
Recent reports spell worrying news for the future of the high street, particularly where the UK is concerned, as a growing number of businesses who have fallen victim to e-commerce and larger retailers announce store closures. But among the fashion industry is a glimmering ray of hope in the form of the athleisure market. Despite analysts predicting the decline of this category, the recent ASBCI Autumn Conference suggested otherwise.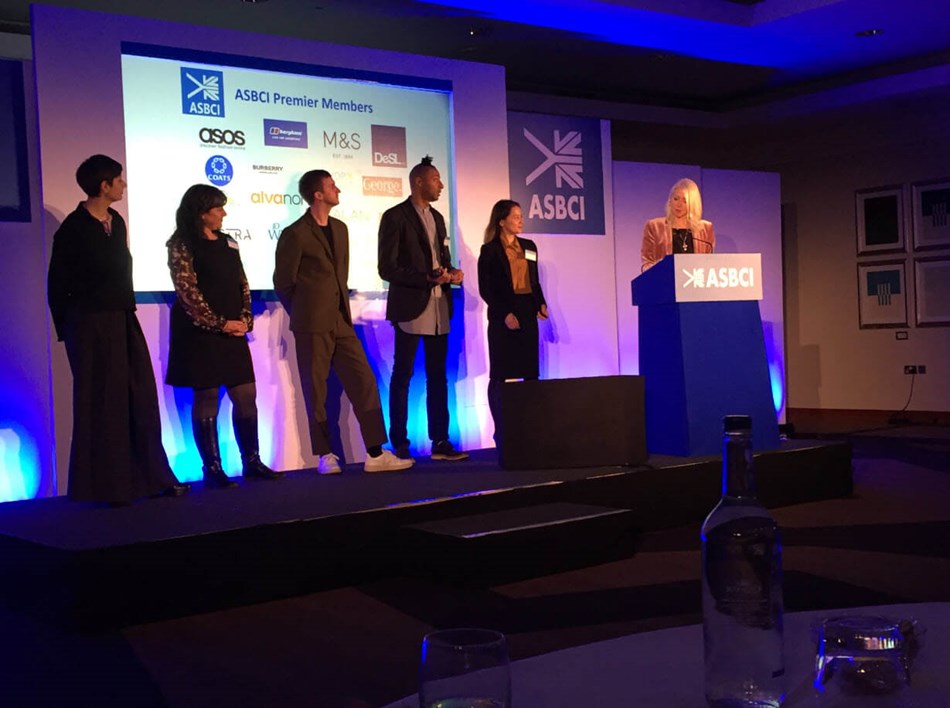 Speakers gather for a Q&A session with the audience
Held on 14 November at Nottingham's Crowne Plaza Hotel, the conference provided a forum to discuss the background of this cultural phenomenon, as well as key performance features associated with athleisure garments, and the future direction of the industry.
Setting the scene of the conference, Graeme Moran, head of fashion and features content, Drapers, began by discussing the factors that led to athleisure – a term that has now taken its own rightful place in the English dictionary. To quote Oxford, it refers to "casual, comfortable clothing designed to be suitable for exercise and everyday wear".
The term 'athleisure' was coined in 2014 in a news story about Nike's sales going through the roof – something which the sports giant attributed directly to athleisure. Referring to industry statistics, Moran says that in 2015, more than half of UK customers bought athleisure activewear and, by 2016, sales of women's trainers in the UK surpassed high heels for the first time. In 2017, Global Data predicted that the UK sports and athleisure market would climb another 8% and, according to Moran, 'it's still climbing'.
So, what led to this trend? "Cultural and lifestyle shifts, social changes, and evolutions in fashion itself. Exercise and being fit and healthy became cool," he says.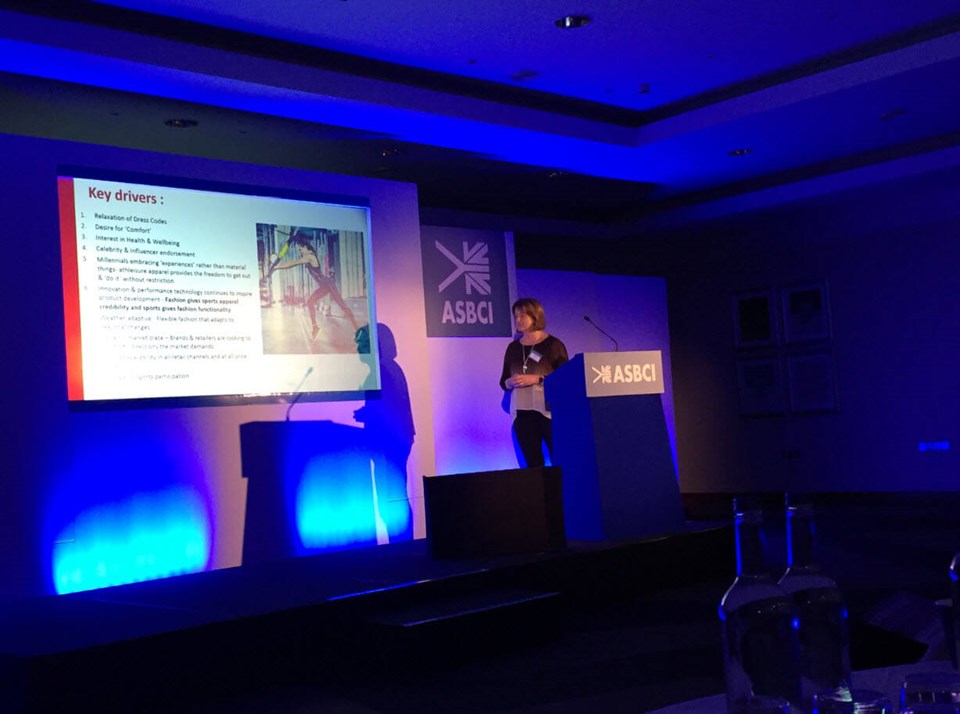 Claire O'Neill from Lycra discusses the factors behind athleisure's growth and popularity
Social media continues to play a huge part in this movement, with people regularly promoting their activewear on Instagram. The main advocates for this are celebrities who broadcast their daily fitness routines and product preferences to their millions of followers – giving birth to the phrase 'social influencers'. As a result, the Instagram hashtag #fitness has had 3.1 million posts in the last month, says Moran.
Another driving factor is the so-called 'casualisation of fashion'. "There's been a big shift in fashion – which has meant that dress codes have relaxed. People are dressing for their lifestyles and they want functionality and versatility so that they can easily run to the gym, drive to school to pick the kids up, take the dog for a walk, and just sit down and be comfortable," says Moran.
Sportswear has become more trend-led, he adds, with technical fabrics becoming more readily available and part of people's everyday lives.
Athleisure has also played an important role in redefining the female wardrobe. "Once upon a time, sportswear was very male orientated. But brands have now capitalised on female-orientated sportswear, including Lululemon and Sweaty Betty. They stormed the market with bright colours, prints and patterns," says Moran. And there's certainly a demand for it. Lululemon reported that its revenue had soared 25% in the second quarter of this year.
Sustainability is also becoming fundamental for the athleisure industry, notes Moran, with various retailers launching environmentally-friendly athleisure collections, including H&M. And, the plus-size market will also open up lucrative opportunities, catering for different sizes – particularly for those who want to lead healthier lifestyles, he says.
Addressing the question of whether the athleisure bubble will burst, Moran believes it won't. "Athleisure has a healthy future. In fact, it is no longer a trend – it is a lifestyle shift that fashion has capitalised on," he says, adding that Generation Z will be the next important influential shopping generation; taking the baton from millennials who, according to Claire O'Neill, marketing manager for Lycra, were 'the real spearhead for getting athleisure started'.
She adds: "There are 1.7 billion millennials in the world today. In Europe, they account for 21% of the demographic and, next year, they will account for the largest proportion of people in the workplace. That means they are mobilised, have a greater share of disposable income, and have a big say in the garments they are buying."
She continues: "Most millennials are less about buying and instead about having more experiences. That's why athleisure is the perfect pairing for that particular consumer cohort. Athleisure provides a lack of restriction. Fashion gives sports apparel credibility and sports gives fashion functionality, so it's a win-win situation for this compilation."
And, it's not just younger consumers who are buying into the trend. "Athleisure has a broad appeal. Potentially everyone could be athleisure consumers," says O'Neill. "These products are available on all retail channels and at all price points; it's accessible to everyone. People can approach athleisure in whatever way they want, and at whatever price point they feel comfortable."
In research conducted by Lycra, focused on the female athleisure consumer, O'Neill says that comfort was considered the most sought-after attribute in athleisure garments. The second one was anti-fluid performance, followed by style. "There's an overwhelming desire for comfort, and there's this interest in health and wellbeing that will drive this attitude to wanting to get out and do more things," she continues.
Lycra fibre has played a pivotal role in the athleisure trend; it can not only be used on its own to provide stretch and performance, but it can be used in combination with all sorts of other yarns to make the end fabric. "All of our innovations require Lycra to connect with other people in the supply chain. We work with garment makers, packagers, designers, brands and retailers. We also leap frog to the end process and talk directly to the consumers about making the invisible visible," says O'Neill.
Examples of brands moving into the athleisure category include Speedo which has developed H2O Active – environmentally-friendly swimwear that enables the wearer to exercise in and out of water. Meanwhile, Freya, a lingerie brand, has developed Freya Active in direct response to its consumers' needs and also "because this is a wonderful opportunity for them to explore other options", O'Neill says.
The market also continues to welcome new players, with some noteworthy entrants including Gymshark, founded by young entrepreneur Ben Francis, and men's yoga brand OHMME. According to O'Neill, these two highly successful start-ups present "brand new opportunities that haven't existed in the past"; mirrored by people's increasing interest in sports activities.
"Personally, I believe that if people start to dress for sport, particularly if sport has never been a part of their lifestyle, [the athleisure market] has broken down another barrier – the opportunity arises for them to get out and do things," says O'Neill.
She gives the example of the This Girl Can campaign developed by Sport England to promote sport among women, an initiative that got 1.6 million people exercising. While 1.8 million runners have registered to take part in the Park Run scheme, a free 5 km run organised across the UK every Saturday. "All that is changing the mindset and that can only mean positive things for society," O'Neill concludes.
Meanwhile, speaking about what makes a garment athleisure, or 'outleisure' as it was also referred to during the conference, Helen Colebourn, technical consultant at Bureau Veritas, an international certification agency, listed the key performance properties of comfort and fit, moisture management, breathability, protection from the elements, antibacterial and odour control.
"As soon as you start claiming that your product has got a particular function, you need to prove it by consolidating it with evidence," says Colebourn. Making technology visible through design features, co-branding, or point-of-sale marketing helps the consumer understand how a garment will enhance their life, and that's what athleisure is all about, she adds.
Discussing future concepts, she believes that microencapsulation will play a key role in athleisure collections – a process in which active substances are coated by extremely small capsules. Originally used in medical textiles to release drugs over long periods of time, microencapsulation has also been used for moisturisers in tights/stockings, sleep pillows that release lavender oils, and insect-repellent fabrics. 
Other professional speakers at the conference included Jutta Vo Quang from Freudenberg, who examined the transition to performance in fashion and highlighted some key performance trends to watch; Terence Senford from Boss Menswear, on the transcendence from streetwear to sports style; Angela Cody, designer at T52 Active, who discussed the athleisure collection of British multinational retailer Marks & Spencer; and Jovita Balseviciene, solution consultant at Lectra, who provided practical advice on designing and producing activewear garments using technical fabrics.
The conference was hosted by Dr Julie King, head of fashion for Northampton University and ASBCI event director, and was sponsored by Bureau Veritas, Lectra, and Freudenberg.
For more information, visit www.asbci.co.uk
Have your say. Tweet and follow us @WTiNcomment