Direct-to-garment (DTG) printing company Retro Activewear (T/A Things Ltd) has installed a new Kornit Storm Hexa, which was timed to coincide with the company's move to its new premises in Norfolk, UK, from London as part of its wider expansion strategy alongside its high-volume screen printing.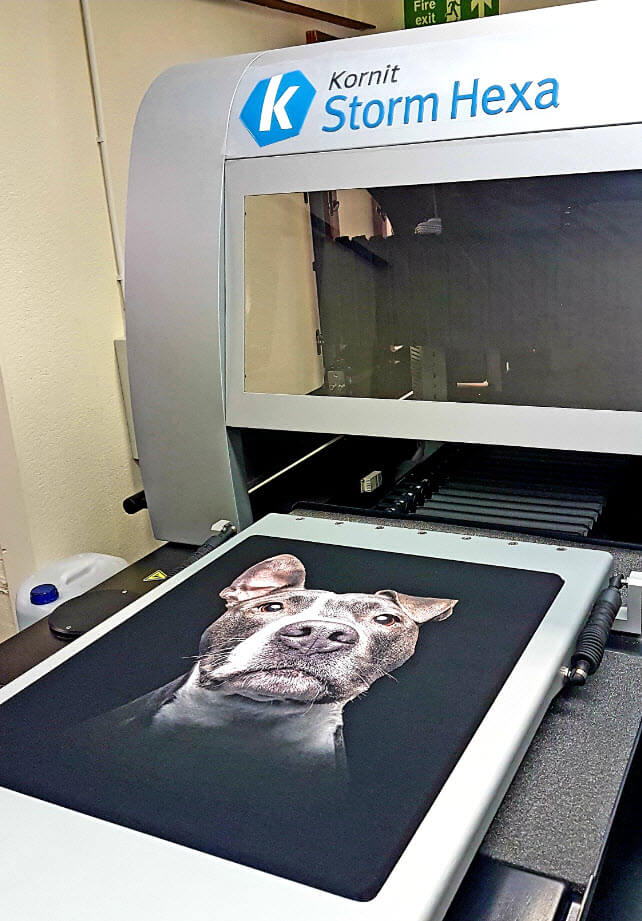 The Kornit Storm Hexa installed at Retro Activewear
The company first started over 30 years ago, as Things, printing T-shirts in Hackney, London. The company quickly grew to become the first UK business to print 180,000 shirts in a week, for Bruce Springteen's Born in the USA tour. The company also designed and produced the global juke box shirts for Live Aid and was one of the first garment manufacturers in the UK to install automatic printing equipment.
Siobhan McEvoy-Ridley, business development director, says: "As a business we have a heritage.  However, nowadays largely due to vibrant foreign markets such as Turkey and China, we find ourselves humble in size but equally as high in vision and innovation. Part of this vision four years ago was to rebrand ourselves under the Retro Activewear name."
The company was forced to sell its Hackney London building due to the regeneration of the Olympic Park and decided that moving out of London was the best option for the business. McEvoy-Ridley says: "It became apparent in recent years that London rent and rates were going up faster than any Apollo rocket. It was clear that London was too expensive for a manufacturing company and the decision was made to the move the business to Norfolk where the rent is lower, there is a fresh workforce and government incentives."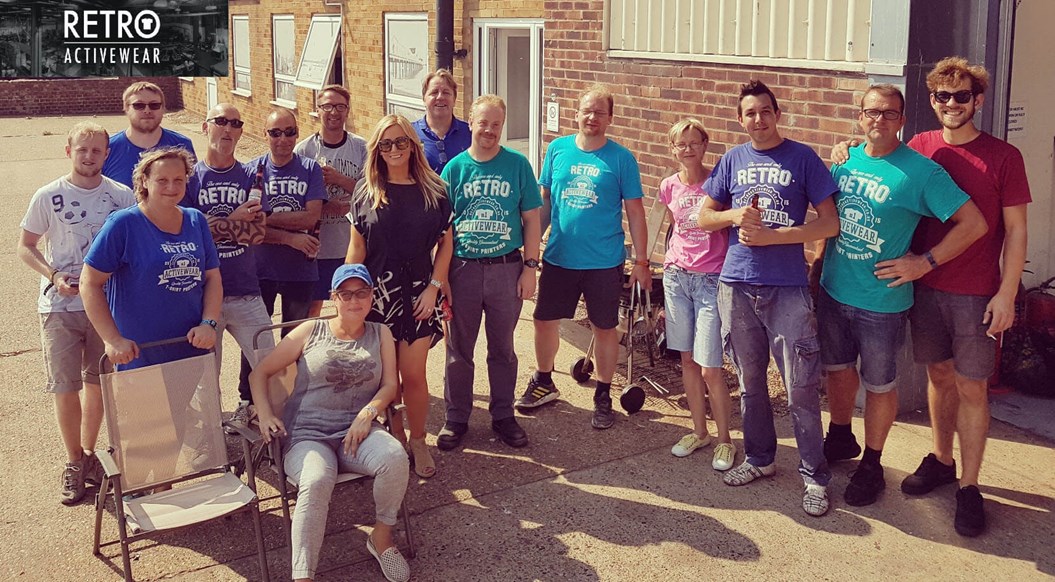 The Retro Activewear team
With its new Kornit Storm Hexa, the company offers DTG digital printing for web-based or specialised companies that do not wish to carry stock and able to offer print runs for a single garment. Along with its DTG offering, the company is screen printing on five automatic presses – which gives it a capacity of around 80,000 printed garments per week from a standard shift. "We are able to print up to 12 spot colours per design or simulated four-colour process," says the company.
Retro Activewear made a total investment of around GB£300,000 and also has to make the new premises suitable for digital printing with an environmentally controlled print room, calibrated and alarmed dryer system, conveyor tables and other ancillaries. In total, the company now has one Kornit Storm Hexa and has indicated to Adelco that they would expect to be looking to purchase another in 12 months' time. "The Hexa Chrome technology delivers 35% more colours than the CYMK platform," says McEvoy-Ridley.
As well as the additional colours, Graham Ridley, managing director of Retro Activewear, says the company chose to invest in the Kornit Storm Hexa because it was the right time and the right technology. "If you sat with a group of prominent printers at any good trade show and listened to the gossip, you would hear the term 'race for the bottom'. The term refers to the fact that in a world of rising costs, prices are continually under pressure in the screen-printing arena. A similarity would be the happenings in the lithography trade in the 1990s as companies closed and the survivors went digital."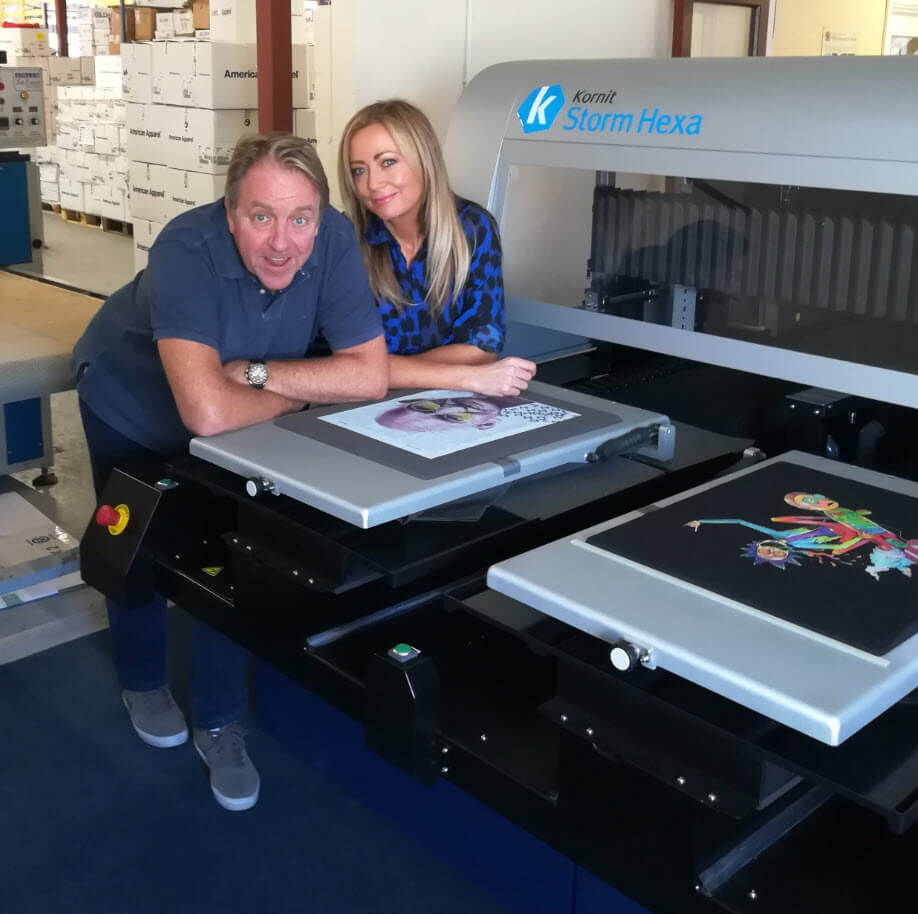 Siobhan McEvoy-Ridley and Graham Ridley of Retro Activewear with the new installation
He continues: "Retro Activewear has been involved in digital printing in a shape or form for nearly 10 years. The original machines proved to be near worthless and our last machine, the Kornit Breeze, was a leader at the time we purchased it but, for us, just lacked something. Ten years ago, I wrote an article questioning why the digital printing market was not considering Hexa Chrome as an option. And, when we saw the fantastic Kornit Storm Hexa, we realised that this was the correct time with our vision and forward-looking plans to get seriously involved in the digital printing of garments."
The company's new production facility in Norfolk has been built to accommodate a digital platform. "The machine has been installed and will support our own online webstores," adds McEvoy-Ridley. "We are also actively negotiating print partnerships with licence owners and brands. With our client base and understanding of artwork we see huge opportunities in print partnerships with licence owners."
The company is once again new to the DTG market, after re-entering with its new investment. Traditionally screen-printed brand merchandise and officially licenced products has been its largest market. Of its return to DTG, McEvoy-Ridley says: "We are largely making our own trends with our own webstores and print partnerships with people who would never ever have considered selling a T-shirt to their audience."
Being based in the UK, McEvoy-Ridley says the company has some good competition and while the high-street market is slowing down, the online DTG market is growing. "An online era is upon us and we believe the market is limited only by lack of drive and imagination."
She continues: "I think there will be a steady growth in the UK with small companies in every town offering digital print and embroidery in very small volumes to the local audience. The larger companies will grow stronger and the void in the middle may well remain due to the costs of entering the digital market properly and at a high level."
Have your say. Tweet and follow us @WTiNcomment